by Beau Riley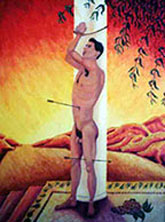 aria 1. Holding David's hand
while the fever takes him is like
a drug rush, or like
the Chorale of Beethoven's Ninth, or like
Queequeg and Ishmael skittering
across the waves wherever Moby wills.
Our being tatters off in the wind: the
godly is apparent, the boundaries slip.
Our voices rise and rise as if
the moon needed our help to glow, as if
these roses needed our praise to bloom, as if
his body's heat was using us for fuel.
Long in the dark this small crowd of two
rocks and chants in the bobbling bed:
hosanna, freude, introibo ad altare dei.
The sweat beads on his lip like dew;
he asks, "Am I the rose or part of the rose?"
aria 2. Sycamore leaves and
their shadows dance on the bricks
in November light. The gleam of
mica and the red of clay move upon
my eye like a clock. Thanksgiving,
Christmas, our tenth anniversary loom
in my head like winter.
The trees are sticks with a few frayed
flags of life. The sun is low and watery.
The birds are in a hurry.
We wait for doctors, dreading their
compassion, flinching from their fear.
We're hungry and do not eat.
We sing every hymn that glorifies the
view of earth. Your limbs are frail and
juddering in a silent wind;
your eye sees through the earth.
Our lives tick and tock against
the melody of leaves, against
their dance of thanks, against
their yellowed and browned
movie of the summer.
aria 3. Now in the rain he's
going faster. The way is slick.
The colors run to gray.
We put rosey bedsheets under him
and red cloths all around, and keep our
voices smooth and energized, but
his eyebrow arches in amusement,
his ears hear foreign music,
his lips speak to pale companions.
I focus intently on the
hissing tires in the street:
I want to ask Stephen Hawking if
they are the sound of time;
I want to ask Monet if this bright gray light
is like they have in Paradise;
I want to ask David what's so funny, but
he's going very fast now,
and his tiny body's a blur within a roar.
aria 4. Draining the pee bag
into a cold dawn, I count the drops
because every milliliter is good news,
and cold piss is better than no piss.
The gray light is strengthening,
so maybe you are too; but I have to
keep busy now and be grateful
for the small splashes in the silence.
Then suddenly the tube is warm
in my hands, and the bag begins
to refill. This is a sly
communication; this is a gift
from the final poverty;
this must be laughter
on a threshold I can't see across.
Hosanna the water and
praise for the heat,
amen for the journey
that you will complete.
aria 5. We have all this
equipage that we could bustle amongst
for your health. We have medicine and
gum and the controls for the television.
We have a bed that goes up and down
and a chair with wheels and an
easy-clean plastic potty. But some of us
are less and less interested, some of us
are spending time in another place, some of us
are conversing with the grackles and wrens.
Your needs fall away
like the leaves from the aspen tree
outside our window in the cold
December night. Your table gets
clearer and clearer until we
sit breathing seldom in the dark.
We're down to chapstick and water and love.
Then your lips are too sore, so
we have water and love.
Then your throat is too feeble, so
we have love,
and these useless chrysanthemums
that shine all alone beside me.
aria 6. Blood pressure sixty
over thirty; heartbeat one-forty; respiration
is forty alternating with apnea; and
urine flow is down to one cc per hour.
Outside a crew of carpenters is making
enough noise to drive off the sparrows,
and it's a cold transparent winter morning.
We can measure the temperature
but not how long you'll stay.
We can describe the distant sky
but not what's apparent to you.
We can call upon the dead to help you across
but not with any certainty.
O bird-angels of the ether
clear away for him, above the naked tree.
O Jesse build him a new house in Beulah.
O Evelyn o DaniØl take this our friend David
all the way to zero.
coda 1. So, you're gone,
and the women are bringing me food,
and your clothes are trickling out the door,
and your keys cackle at me in the dark.
The winter solstice is near and some are
calling it Christmas, but I am
calling it the longest night of the year,
calling it the coldest rain.
The wrens and I sit shivering in this
see-through aspen tree, peeking in
where people dwelt amongst
the cold TV, the dusty rug, the floral
tributes; where the empty simply is.
I hear your old bass voice coaching me
in beginner's opera Italian:
sola, perduta, abandonata;
and I know what she meant.
But I'd rather you sang me:
fiore, amore e sangue.
And I'm waiting for un bel di`.
coda 2. Tom said let
the light seep in, whichever it is,
and the one that comes for me is
the blink of Ron's ganyclovir as
it crosses from the bag to the tube:
a glimpse of hope, a glare of action,
a gleam of letting be.
This ritual means inclusion
but I want to feel left out.
It's supposed to be a healing
but I want to rake my wounds.
I need to let my husbander
go on to other fields,
but I worry the stubble
on his frosted face.
I contemplate the via dolorosa,
wet with dew and glowing fugitively
in the shortest day of the year.
I can feel my fingers twined
in David's discarded catheter,
wet with piss and tears,
and all along its curves
the light glistens and moves on.
as recited in the film Hope is the Thing with Feathers: Death, Dying & the Power of Creativity to Heal, reprinted courtesy of Open Eye Pictures
artwork by Beau Riley

Hope is the Thing with Feathers is a lush and lyrical film built around a poem which San Francisco poet and artist Beau Riley wrote as his lover of twelve years lay dying, the film shows one man plumbing the depths of his sorrow to find meaning through the strength of his mind, imagination, and devotion to his partner. Through his powerful poetry, paintings, and testimony, Beau draws a moving portrait of love between two people, each crippled in his own way: David, a paraplegic; Beau, a recovering alcoholic. They find healing and wholeness through one another, have to let go, and help each other in their own ways "cross over" to the other side.