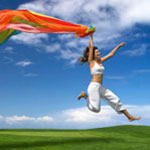 Dear Dr. T,
I was diagnosed several years ago with Graves and was given Rai. I was doing okay until around January. My levels have been in the hyper stage for about 9 months. My doctor told me to stop taking my synthroid for a couple days. Then my levels went to 17 hypo. I ended up in the hospital with severe anxiety and depression. Can it be my adrenals? Even though they did a 24 hour urine and blood test, they came back normal. In the AM I always feel so terrible but always feel better in the afternoon and evening. Sometimes when I wake up I feel like there is something missing in my brain. It's hard to explain. Any suggestions?? Thanks.

Dr. Teitelbaum's response:
It could be the adrenals or thyroid despite the tests being normal. I would recommend you read the sections on these in my book From Fatigued to Fantastic! as the symptoms can guide you. I also recommend doctors at the Fibromyalgia and Fatigue Centers (see fibroandfatigue.com for more info).
Jacob Teitelbaum, M.D.