posted in <<CFS / FMS Solutions > THRIVE! EXPERTS
CFS/FMS Solutions
Graves disease
with Jacob Teitelbaum, M.D.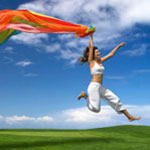 Dear Dr. T,
I was diagnosed several years ago with Graves and was given Rai. I was doing okay until around January. My levels have been in the hyper stage for about 9 months. My doctor told me to stop taking my synthroid for a couple days. Then my levels went to 17 hypo. I ended up in the hospital with severe anxiety and depression. Can it be my adrenals? Even though they did a 24 hour urine and blood test, they came back normal. In the AM I always feel so terrible but always feel better in the afternoon and evening. Sometimes when I wake up I feel like there is something missing in my brain. It's hard to explain. Any suggestions?? Thanks.

Dr. Teitelbaum's response:
It could be the adrenals or thyroid despite the tests being normal. I would recommend you read the sections on these in my book From Fatigued to Fantastic! as the symptoms can guide you. I also recommend doctors at the Fibromyalgia and Fatigue Centers (see fibroandfatigue.com for more info).
Jacob Teitelbaum, M.D.
Dr. Teitelbaum's SHINE Approach to CFS/FM Treatment
In his 30 years of clinical experience, and in his landmark study on Effective Treatment of CFS/FM, Dr Teitelbaum has found that his SHINE approach to treating CFS/FM is successful in the vast majority of patients.
SHINE represents four areas of health issues that need to be addressed when creating a treatment program. These health issues and their roles in treating CFS/FM are as follows:
S = SLEEP:
Get adequate sleep, preferably eight to nine hours a night. Sleep replenishes the body's energy and heals its muscles. Inadequate sleep will leave you exhausted and in pain.
H = HORMONES:
Get tested for hormone deficiency and treated if needed. Hormone deficiencies can contribute to fibromyalgia and chronic fatigue syndrome.
I = INFECTIONS:
Get treatment when symptoms of infections occur. The lack of restorative sleep in CFS/FM leads to dysfunctional immune systems. Underlying viral, bacterial, bowel, sinus and yeast infections are common and can be a contributing cause or result of CFS/FM.
N = NUTRITIONAL SUPPLEMENTS:
Optimal nutritional supplementation is essential. Many nutrients can be depleted as a result of CFS/FM. B-12, magnesium, Acetyl L Carnitine and glutathione, as well as your basic A, B, C and D vitamins need to be supplemented at a level that your average over the counter multivitamin cannot provide.
E = EXERCISE:
Exercise as able. After 10 weeks on the 4 steps above, you will be able to slowly increase your exercise—without being wiped out the next day!
ask Dr. T a question
click here to read more about SHINE
find a SHINE support group near you
DR. T'S LIBRARY
magazine and newspaper appearances
television and radio appearances
publications
recent press releases
Leave a reply