posted in <<CFS / FMS Solutions > THRIVE! EXPERTS
CFS/FMS Solutions
Severe body burning, lyme, candida
with Jacob Teitelbaum, M.D.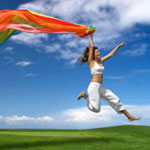 Dear Dr. T,
I was looking through some medical records and found a lab test done on 3/16/05 but had no follow through. I don't want to bug you but I am having total body burning pretty severe and this total body burning is fairly recent AND getting worse—long standing burning in legs but not total body, so desperate for relief. Also just got Lyme western blot back from IGeneX lab—2 bands positive on IgG and negative IgM. Conventional labs in the past tested negative for Lyme.

The Candida AB IGG was 1.61 (>1.00 positive).
Candida AB IGA 1.90 (>1.00 positive).
Candida AB IGM 1.29 (>1.00 positive).
Wondering if I should be treated for the Candida? I am extremely miserable and not able to function or sleep with this degree of burning pain. I checked your book about treatment and I am confused (guess it is brain fog) and not sure. I am worried about the drugs too because I have liver cysts. Thanks for your help Dr. T. I am really desperate! I made an appt. with Dr. Holtoff's clinic but they can't get me in until February with the nurse practitioner. I feel like I am dying, no kidding!

Dr. Teitelbaum's response:
Sounds like either neuropathic pain or Allodynia (common in CFS/FMS). It is good to see a neurologist to rule out specific causes of neuropathy (expect a lot of tests and no conclusive result, which is OK and pretty much a good result). Need to rule out diabetes, low B12, low thyroid, etc. Be sure you are on the Energy Revitalization System vitamin powder and lipoic acid 300 mg 2x day. Then read the chapter in my "Pain Free 1-2-3!" book on neuropathic pain to see how to treat it.
P.S. Dr Holtorf's office can help here too. But read the chapter to go in with ideas for treatment to give the NP regarding the nerve pain (she'll know how to treat the fibro—which often will also eliminate the nerve pain—but you want to be kept comfortable while waiting for the FMS treatment to kick in. May want to start with Lyrica and /or Neurontin plus Elavil 25 mg at bedtime).
The blood tests for yeast are meaningless as I believe all CFS/FMS patients should be treated for yeast. I do not know that I have ever seen a negative Lyme test from IGeneX so who knows what that means (reasonable again to treat with the antibiotics empirically given your symptoms, so the test adds some support and many experts more knowledgeable than I in the area trust it).
Jacob Teitelbaum, M.D.
Dr. Teitelbaum's SHINE Approach to CFS/FM Treatment
In his 30 years of clinical experience, and in his landmark study on Effective Treatment of CFS/FM, Dr Teitelbaum has found that his SHINE approach to treating CFS/FM is successful in the vast majority of patients.
SHINE represents four areas of health issues that need to be addressed when creating a treatment program. These health issues and their roles in treating CFS/FM are as follows:
S = SLEEP:
Get adequate sleep, preferably eight to nine hours a night. Sleep replenishes the body's energy and heals its muscles. Inadequate sleep will leave you exhausted and in pain.
H = HORMONES:
Get tested for hormone deficiency and treated if needed. Hormone deficiencies can contribute to fibromyalgia and chronic fatigue syndrome.
I = INFECTIONS:
Get treatment when symptoms of infections occur. The lack of restorative sleep in CFS/FM leads to dysfunctional immune systems. Underlying viral, bacterial, bowel, sinus and yeast infections are common and can be a contributing cause or result of CFS/FM.
N = NUTRITIONAL SUPPLEMENTS:
Optimal nutritional supplementation is essential. Many nutrients can be depleted as a result of CFS/FM. B-12, magnesium, Acetyl L Carnitine and glutathione, as well as your basic A, B, C and D vitamins need to be supplemented at a level that your average over the counter multivitamin cannot provide.
E = EXERCISE:
Exercise as able. After 10 weeks on the 4 steps above, you will be able to slowly increase your exercise—without being wiped out the next day!
ask Dr. T a question
click here to read more about SHINE
find a SHINE support group near you
DR. T'S LIBRARY
magazine and newspaper appearances
television and radio appearances
publications
recent press releases
Leave a reply