posted in <<CFS / FMS Solutions > THRIVE! EXPERTS
CFS/FMS Solutions
Severe pain relief
with Jacob Teitelbaum, M.D.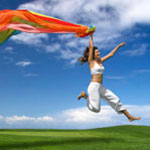 Dear Dr. T,
I just feel so badly and I feel there is no reason to continue to live. I am 71 years old, have been disabled since birth, doctors predicted I would not live beyond 20 years old. I surely fooled him. I always accepted my disability, even worked for 11 1/2 years. In 1983 I had pulmonary arrest and ended up with a tracheotomy and on a respirator 24/7, and I'm still on the respirator 24/7.

My problem now is suffering so much severe pain. I believe it's nerve pain because my feet and legs have numbness, tingling and needles and I have very bad pain when someone touches my toes and feet. I have been taking the Pain Tablet, Grape Seed, and whatever Dr. Becker recommends to take. My pain doctor has been prescribing Percocet for so very many years. I try to cut down taking it, but I am not sure what to do. My pain is so bad that I cry so much day after day. That is why I feel it's not worth living. Please, please help me.

Dr. Teitelbaum's response:
Your goal should be getting pain free—not getting off the Percocet! Although it is abused in some situations, in chronic pain the Percocet is simply one more gift that God sends us to use.
I know you can be pain free. In the over 3,000 pain patients I've treated, I can count on my fingers (don't even need my toes) the ones I have not been able to get adequate pain relief. That most physicians (God bless them) are clueless about how to treat pain (they are simply not trained in this) does not mean you can't be pain free. You can!
Start by going to a pain specialist (Physiatrist) who KNOWS how to treat neuropathic pain. To find one, go to the American Academy of Pain Management web site (aapainmanage.org) and click on the "patients" link on the left and then on finding a physician. Meanwhile, I have an excellent chapter on treating nerve (Neuropathic) pain in my Pain Free 1-2-3! book. Simply following the directions in this chapter (and bring them up with and discuss them with your doctor so you can start immediately while getting an appointment with a knowledgeable pain specialist) will likely result in dramatic relief. The medications Lyrica, Elavil, Neurontin, Ultram, and Cymbalta, for example, are much more effective for nerve pain than Percocet (and can be taken with the Percocet) and are less likely to suppress your breathing. If they are too sedating, begin with a lower dose and work up so your body can adjust.
Also USE THE PAIN CREAMS I DISCUSS IN THE CHAPTER! They are great for pain, especially nerve pain (which is likely what you have) with no side effects. Give all treatments 2-6 weeks to work and people can begin the creams and a medication by mouth simultaneously. Your doctor can call a prescription for the pain creams to ITC pharmacy (a compounding pharmacy 303-663-4224) and ask for the "Nerve pain lotion". I have my patients apply it to the painful areas if the skin is intact (not to open sores) rubbed in in a very thin layer (a little goes a long way) 3 times a day (using up to 3-4 "pea sized" amounts at a time).
In addition, nutritional deficiencies and low thyroid (also discussed in the book) can contribute to nerve pain. I would take the Energy Revitalization System vitamin powder (1/2 to 1 scoop a day) with the B vitamin that comes with it, lipoic acid 300 mg 2x day and acetyl-l – carnitine 500-1000 mg 2x day (all available in most health food stores or at endfatigue.com). It may take 3-12 months, but these can help nerve pain. Also, make sure your thyroid hormone levels are not low and that your vitamin B12 blood level is over 540 (if less, ask for B 12 shots using METHYLcobalmin, 1000-3000 mcg per dose for 10-15 injections—I'd give an injection every 1-3 days). If your doctor won't give the shots, B 12 is already in the Energy Revitalization System.
You can get relief. It is time for YOU to GET PAIN FREE NOW!
Jacob Teitelbaum, M.D.
Dr. Teitelbaum's SHINE Approach to CFS/FM Treatment
In his 30 years of clinical experience, and in his landmark study on Effective Treatment of CFS/FM, Dr Teitelbaum has found that his SHINE approach to treating CFS/FM is successful in the vast majority of patients.
SHINE represents four areas of health issues that need to be addressed when creating a treatment program. These health issues and their roles in treating CFS/FM are as follows:
S = SLEEP:
Get adequate sleep, preferably eight to nine hours a night. Sleep replenishes the body's energy and heals its muscles. Inadequate sleep will leave you exhausted and in pain.
H = HORMONES:
Get tested for hormone deficiency and treated if needed. Hormone deficiencies can contribute to fibromyalgia and chronic fatigue syndrome.
I = INFECTIONS:
Get treatment when symptoms of infections occur. The lack of restorative sleep in CFS/FM leads to dysfunctional immune systems. Underlying viral, bacterial, bowel, sinus and yeast infections are common and can be a contributing cause or result of CFS/FM.
N = NUTRITIONAL SUPPLEMENTS:
Optimal nutritional supplementation is essential. Many nutrients can be depleted as a result of CFS/FM. B-12, magnesium, Acetyl L Carnitine and glutathione, as well as your basic A, B, C and D vitamins need to be supplemented at a level that your average over the counter multivitamin cannot provide.
E = EXERCISE:
Exercise as able. After 10 weeks on the 4 steps above, you will be able to slowly increase your exercise—without being wiped out the next day!
ask Dr. T a question
click here to read more about SHINE
find a SHINE support group near you
DR. T'S LIBRARY
magazine and newspaper appearances
television and radio appearances
publications
recent press releases
posted on May 15, 2008 | tags: CFS, chronic fatigue syndrome, chronic pain management, cymbalta, Elavil, fibromyalgia, FMS, lyrica, neurontin, percocet, ultram
Leave a reply