posted in <<CFS / FMS Solutions > THRIVE! EXPERTS
CFS/FMS Solutions
Muscle, joint and bone pain
with Jacob Teitelbaum, M.D.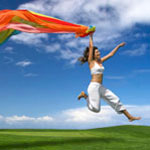 Dear Dr. T,
I'm writing to you not only on my own behalf but for so many breast cancer patients who are suffering from the same chronic pain I am. I was diagnosed with Stage 2, estrogen + breast cancer in 2004. I was 46 yrs old. I had a lumpectomy, chemo and radiation, and am now on Femara. The chemo caused menopause and I elected to have a supra-cervical hysterectomy following treatment. Ever since treatment, surgery and now Femara, I suffer from daily, significant muscle, joint and bone pain. I do twice/week yoga and walk 40 minutes about 5 times a week despite its causing severe muscle tightness and pain in the muscles, bones and joints. The only relief I get is from hot baths and showers and the occasional, low dose Percocet which I take as a last resort. I'm willing to take supplements, but am afraid to take anything that may stimulate the production of hormones which could lead to a cancer recurrence. Can you help me with this problem which seems to be so common among breast cancer patients I talk to? Thank you.

Dr. Teitelbaum's response:
This is a difficult problem for women—especially when they are given Tamoxifan or other hormone blockers for their breast cancers. This is a common trigger for fibromyalgia.
The good news is that even without being able to take estrogen, testosterone or DHEA hormones, most women in this setting respond well to the "SHINE Protocol" discussed in my "From Fatigued to Fantastic!" book and used by physicians at the Fibromyalgia and Fatigue Centers nationally.
Specific treatments that also help the hot flashes (a.k.a. "autonomic instability") caused by the lack of estrogen includes an herb called black cohosh. The only form that works is a special extract called "Remifemin" by Enzymatic therapy (shown to work in many studies and the only one used in most reputable studies now). I give 2 twice a day for 2 months and then 1 twice a day is usually enough. Give it 2 months to work.
Settling the hot flashes helps sleep and decreases pain. Some groups that misinform about natural remedies in what I believe is an attempt to scare people (natural products are competition for pharmaceuticals) have put out rumors that black cohosh has estrogen activity that could flare breast cancer, but this is rubbish and black cohosh likely inhibits breast cancer (see the article Black cohosh stops breast cancer growth in the lab).
In addition, some oncologists are allowing estrogen in certain cases, so discuss this with yours. Interestingly, estriol (NOT estradiol) appears to likely inhibit breast cancer (see the HRT Inset discussion in the newest edition of my "From Fatigued to Fantastic!" book—offering yet another possibility for your oncologist—take the article and footnotes/references with you when you see them).
Jacob Teitelbaum, M.D.
Dr. Teitelbaum's SHINE Approach to CFS/FM Treatment
In his 30 years of clinical experience, and in his landmark study on Effective Treatment of CFS/FM, Dr Teitelbaum has found that his SHINE approach to treating CFS/FM is successful in the vast majority of patients.
SHINE represents four areas of health issues that need to be addressed when creating a treatment program. These health issues and their roles in treating CFS/FM are as follows:
S = SLEEP:
Get adequate sleep, preferably eight to nine hours a night. Sleep replenishes the body's energy and heals its muscles. Inadequate sleep will leave you exhausted and in pain.
H = HORMONES:
Get tested for hormone deficiency and treated if needed. Hormone deficiencies can contribute to fibromyalgia and chronic fatigue syndrome.
I = INFECTIONS:
Get treatment when symptoms of infections occur. The lack of restorative sleep in CFS/FM leads to dysfunctional immune systems. Underlying viral, bacterial, bowel, sinus and yeast infections are common and can be a contributing cause or result of CFS/FM.
N = NUTRITIONAL SUPPLEMENTS:
Optimal nutritional supplementation is essential. Many nutrients can be depleted as a result of CFS/FM. B-12, magnesium, Acetyl L Carnitine and glutathione, as well as your basic A, B, C and D vitamins need to be supplemented at a level that your average over the counter multivitamin cannot provide.
E = EXERCISE:
Exercise as able. After 10 weeks on the 4 steps above, you will be able to slowly increase your exercise—without being wiped out the next day!
ask Dr. T a question
click here to read more about SHINE
find a SHINE support group near you
DR. T'S LIBRARY
magazine and newspaper appearances
television and radio appearances
publications
recent press releases
Leave a reply