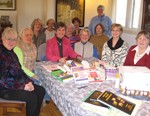 Five Canadian women suffering from fibromyalgia, CFS, MCS and other related conditions started a health book club called Health Pursuits Reading/Study Group in 1996 which now has over 60 members. Not only do they read books like "Wellness Against All Odds" by Sherry Rogers, but they experiment with the theories they read about on themselves and help each other to manage, cope, and heal from illness.
"We don't just read the books – we live the books," says Diane Dawber, one of the founding members. "We try all the strategies and then we discuss it and we put together our results." Many of the members have had major improvements in their health, which they attribute to their participation in the study group. They've recently launched a website (healthpursuitsgroup.com) which shares some of the best tips they've gleaned over the years, as well as a recommended book list and other offerings…read more about this group
The group inspired a blog post in the thrive! Journal section of our site, where you can read about their hot air balloon metaphor for healing.