posted in <<CFS / FMS Solutions > THRIVE! EXPERTS
CFS/FMS Solutions
Long-term side effects of D-ribose?
with Jacob Teitelbaum, M.D.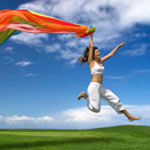 Dear Dr. T,
Thank you for your wonderful work in helping CFS patients! Surely your discoveries have been life-changing for many. Recently, I began taking Corvalen for energy, and am amazed at the wonderful effects of this product! I am concerned, however, about using it long-term. One health "expert" claims that it has 50+ the glysolation/glycation power of regular glucose. It would seem to me, then, that it could potentially create too much ATP. If this is true, then it would also seem that it would place extra demands on the body for nutrients and/or cause hormone imbalances. I am especially concerned about its impacts upon insulin/cortisol levels. Any insight you can provide into these issues, I would greatly appreciate! :) Thank you.

Dr. Teitelbaum's response:
I am not impressed with the claims of increased glycosylation, and simply taking the antioxidants in the Energy Revitalization System vitamin powder tend to decrease glycosylation regardless. Many people have been on the ribose for many years and no long-term problems have been seen with its use.
The problem is not with creating too much ATP and a secondary nutrient demand as again this will simply leave people feeling excellent and the vitamin powder would handle any of the nutrient demands needed. The ribose also has a negative glycemic index (which is excellent and which would tend to actually improve/lower blood sugars in diabetics).
The main problem is that the increase energy production (which is good) can unmask an exhausted/fatigued adrenal gland which is also contributing to fatigue. This then manifests as getting irritable when hungry or shaky/hyper/over energized with the ribose. When these occur, simply lowering the dose of ribose or taking the ribose with food has taken care of this issue. More importantly, this suggests to me the diagnosis of adrenal fatigue/exhaustion and I will then treat the adrenal with "Adrenal Stress End" by Enzymatic Therapy and very low dose Cortef (adrenal cortisol).
Unmasking this adrenal exhaustion is good as it allows it to be easily treated—leaving the person feeling much much healthier. For more information on adrenal fatigue and how to treat it, see http://www.endfatigue.com/health_articles_a-b/Adrenal-the_adrenal_gland.html.
Jacob Teitelbaum, M.D.
Dr. Teitelbaum's SHINE Approach to CFS/FM Treatment
In his 30 years of clinical experience, and in his landmark study on Effective Treatment of CFS/FM, Dr Teitelbaum has found that his SHINE approach to treating CFS/FM is successful in the vast majority of patients.
SHINE represents four areas of health issues that need to be addressed when creating a treatment program. These health issues and their roles in treating CFS/FM are as follows:
S = SLEEP:
Get adequate sleep, preferably eight to nine hours a night. Sleep replenishes the body's energy and heals its muscles. Inadequate sleep will leave you exhausted and in pain.
H = HORMONES:
Get tested for hormone deficiency and treated if needed. Hormone deficiencies can contribute to fibromyalgia and chronic fatigue syndrome.
I = INFECTIONS:
Get treatment when symptoms of infections occur. The lack of restorative sleep in CFS/FM leads to dysfunctional immune systems. Underlying viral, bacterial, bowel, sinus and yeast infections are common and can be a contributing cause or result of CFS/FM.
N = NUTRITIONAL SUPPLEMENTS:
Optimal nutritional supplementation is essential. Many nutrients can be depleted as a result of CFS/FM. B-12, magnesium, Acetyl L Carnitine and glutathione, as well as your basic A, B, C and D vitamins need to be supplemented at a level that your average over the counter multivitamin cannot provide.
E = EXERCISE:
Exercise as able. After 10 weeks on the 4 steps above, you will be able to slowly increase your exercise—without being wiped out the next day!
ask Dr. T a question
click here to read more about SHINE
find a SHINE support group near you
DR. T'S LIBRARY
magazine and newspaper appearances
television and radio appearances
publications
recent press releases
Leave a reply