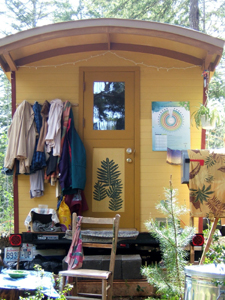 Mokihana and Pete of Washington state began their journey with chemical sensitivity (MCS) in Hawaii, where they became "refugees and illegals" living in their car for lack of a tolerable home. This experience as a nomadic people experiencing discrimination from the culture-at-large metaphorically tied them to the Romani gypsies of eastern Europe, who have also had to endure despite many hardships. Due to rampant pesticide use and other local toxic practices that made life unmanageable, they left Hawaii for the Pacific Northwest and settled in Washington state.
Inspired by the traditional gypsy caravan, called a "vardo," they decided to build their own safe home on the bed of a trailer. The result was a labor of love that became larger than building a 4-walled non-toxic room—it was about building a safe oasis and celebrating a nomadic, gypsy life, a process that first involved deep internal exploration.
We interviewed Mokihana and Pete about their journey with MCS, the experience of building a vardo of their own, and what services they'd like to offer to fulfill their vision of intentional community-living and resource-sharing among those with severe chemical sensitivity.
Theirs is a story of how to transcend trauma to create something beautiful and powerful, no matter what your challenges are. We hope it will inspire you to take action in your own life, to rise above the daily grind and create a life you can love…read our interview