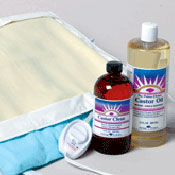 Enema equipment, castor oil packs and other products to assist you in eliminating harmful toxins.
AloeDetox™ by Premier Research Labs (PRL)
This aloe/clay detox formula provides unique detoxification and immune support.
Instinct Edible Clay by Surthrival
A detoxifying dessert with wild-crafted bentonite clay, raw cacao, and essential oils of peppermint. Geophagy – literally the "eating of earth" – refers to the timeless detoxification method of eating clay. Clay consumption has been documented in nearly every primitive human culture on earth, and is strongly represented in the animal world as well. Because most bio-toxic compounds carry a positive (+) electrical charge, they are easily "mopped-up" by the clay's net negative (-) electrical charge. By combining organic raw cacao with betonite clay and essential oils of peppermint, this is a great tasting way to restore clay to its rightful place in a natural human diet.
NEEDS, Inc.
Shopping site for the health conscious and environmentally sensitive person.
Optimal Health Network
Products for in-home colon cleansing, enemas, and nutritional support.
The Heritage Catalog
Castor oil packs and other products based on the healings of Edgar Cayce.