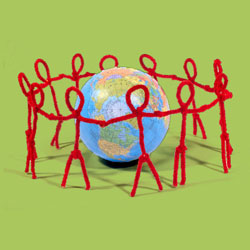 Support for those suffering from chemical sensitivity.
Advocacy for Patients
Where patients can get free information, advice and advocacy services regarding medical records, health insurance, private disability insurance coverage, Social Security Disability Income, Americans with Disabilities Act, the Family and Medical Leave Act, work and school accommodation for chronic illnesses, and much more!
Chemical Injury Support
For those suffering from injuries and disease processes arising from exposures to toxic substances, including MCS (Multiple Chemical Sensitivity), TILT (Toxic Induced Loss of Tolerance), E.I. (Environmental Illness), GWS (Gulf War Syndrome) and WTC (World Trade Center) syndrome.
GreenCanary
Yahoogroup dedicated to a life free from toxic chemicals, and the health problems that they can cause.
Healthy People, Healthy Places
Environmental Health Nurse Peggy Wolff offers environmental health counseling (individual, family and group sessions), traditional psychotherapy, home inspection, and training on environmental issues for employers, employees, the general public and health care professionals. Located in Leverett, MA. 413.367.9638
Immune Parenting
This list is for both men and women who have Multiple Chemical Sensitivity, Chronic Fatigue Syndrome, Fibromyalgia, autoimmune disorders, or other immune system medical issues—or their partners—who are parents, pregnant, trying to conceive, or who are thinking about parenthood. Their focus is on natural childbirth and childrearing, alternative medicine, and scent-free / chemical-free living.
Immune Web
Mailing list and resource center for those with an immune system related illness such as Chronic Fatigue Syndrome, Lupus, Fibromyalgia, Epstein-Barr, and Multiple Chemical Sensitivities.
League of Toxic Amenders
Site of superheros created from chemical injury—when their bodies were poisoned by chemicals in the environment, their superpowers emerged. United in a desire to educate about chemical injury and create a safer world.
MCS Advice
Mentorship and advice for those just beginning to deal with their Multiple Chemical Sensitivities (MCS), from those who have been there and gotten better.
MCS-Toxic-Injuries
A safe place for the toxically or chemically injured, and the environmentally sensitive.
MedConsumer.Info
Great listing of MCS groups and resources.
The Buddy Program
The Buddy Program offers volunteer support and understanding to alleviate involuntary isolation among people with CFS, FM, and MCS. Volunteers offer different kinds of supportive behavior during visits or by phone 1 to 2 times a week. 773.325.1897
The Health Pursuits Reading/Study Groups
Great website of a great Canadian group: The Health Pursuits Reading/Study Groups. In 2008, they were the subject of a short study by the University of Toronto Medical School and the Envirionmental Health Clinic at Women's College Hospital, Toronto. They are the only model in the medical literature of a support group for those with FM, CFS, MCS, etc, which helps people improve while other models made people worse.
The Invisible Disabilities Advocate
"Helping people understand chronic illness and pain!"