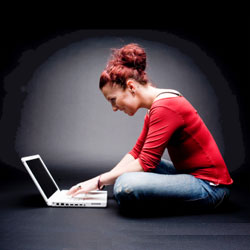 Websites and articles about electromagnetic sensitivity.
A Canary's Eye View
Catherine Holmes Clark's interesting site on Chemical Intolerance and related conditions, including EMF sensitivity.
A Healthy Habitat
This website is dedicated to assisting those who suffer from Electromagnetic Hypersensitivity (EHS), or often referred to as Electrosensitivity. Since we are all sensitive to non-ionizing radiation to some degree, anyone with an interest in this area may find this site useful.
Allergic to Electricity
Article in London's Daily Mall about a CEO of a high-tech food company who for the past seven years has been electrosensitive, which means he reacts to the electromagnetic radiation – sometimes known as electrosmog – given off by electricity systems and appliances.
Antenna Search
Get detailed information on existing & future masts and antennas in the US.
Are We Being Too Nice?
Article in the Norwich Evening News 24 titled: Stop being so nice in mast battles, 03 February 2005. Mobile phone mast campaigners were today called to arms by a Norwich MP who said it was time for protesters to get tougher to stop masts being installed near homes and schools. Dr Ian Gibson, Norwich North MP, said campaigners have been too "nice" in their campaign against the telecommunication giants. "Politeness doesn't seem to be paying off so they are going to have to think of some novel ways to get their point of views over to people not prepared to listen to their concerns and worries," said Dr Gibson. "Perhaps they have been too nice and probably now it is time to take more militant action."
BioInitiative Report
August 31, 2007 – An international working group of scientists, researchers and public health policy professionals (The BioInitiative Working Group) has released its report on electromagnetic fields (EMF) and health. They document serious scientific concerns about current limits regulating how much EMF is allowable from power lines, cell phones, and many other sources of EMF exposure in daily life. The report concludes the existing standards for public safety are inadequate to protect public health.
Black on White
Voice and witnesses about electro-hypersensitivity: the Swedish experience. This PDF download is a translation of a Swedish book by Rigmor Granlund-Lind and John Lind, based on statements at a public hearing 8 March 2000 and letters in connection with the hearing from more than 400 electro-hypersensitive people or from people in close contact with them as relatives, doctors, EMF-reduction engineers, etc.
Child safety fears prompt Wi-Fi code for Welsh schools
Geoffrey Lean of The Independent writes: New safety rules are to be drawn up for Wi-Fi in schools for the first time in Britain, after a local authority officially voiced concern last week about possible effects on children's health. The move, which was welcomed by the Professional Association of Teachers, is the first such action a local authority has taken over classroom Wi-Fi, which has been installed in nearly half of all primary schools and 70 per cent of secondary schools in the country.
Cloud of worry gathers over wireless health risks
Article by Doreen Carvajal of the International Herald Tribune: While major cities around the world rush to blanket neighborhoods with free wireless Internet access, critics are questioning the health risks that might be created by a wired London or a Paris transformed from the City of Light to City of Hot Spots. The nagging fear is that electromagnetic waves emitted by wireless technology could become the tobacco smoke of the 21st century.
Create Your Healthy Home
Self-help literature and information on reducing electromagnetic radiation, plus how to control mold, improve your indoor air quality and water quality, and find environmental products and mold and environmental home inspectors.
EI Wellspring
Great resource for EI/EHS, including how to build a low EMF phone. Simple layout for quick download, and clean, easy printing. Written by an EI/EHS genius.
>Electrical Sensitivity InfoElectro Hyper Sensibilité / Electro Hyper Sensitivity
This portal is about Electro Hyper Sensitivity (EHS). It mainly provides information and resources about a public health issue that is closely related to wireless technologies.
Electronic smog linked to respiratory disease
Article by Geoffrey Lean from The Independent, published 29 July 2007 about a new study that suggests that electrical fields from computers, televisions and other everyday equipment can give people asthma, influenza and other respiratory diseases.
EMF Information
Helpful information for the electrically sensitive (ES).
EMF Interface
The harmful and beneficial effects of bioelectromagnetics.
EMF Safety Superstore
Shop for EMF meters, shielding devices, low EMF-appliances, and more. 518.432.1550
FEB/Swedish Association for the ElectroSensitive
This is the website of The Swedish Association for the ElectroSensitive, but it also has many resources in English. Excellent interviews and articles including "Black on White" a compelling compilation of statements from 400 Electro Hypersensitives from Sweden.
Frivolten Community
An EMF-free community being set up in Sweden. This website is in Swedish.
Gauss Network
Japan-based EMF-awareness NGO, Gauss Network, provides some thorough reports on the harms of EMFs in English.
Germany warns citizens to avoid using Wi-Fi
Article by Geoffrey Lean in The Independent about the latest from the German government: people should avoid using Wi-Fi wherever possible because of the risks it may pose to health. This surprise ruling – the most damning made by any government on the fast-growing technology – will shake the industry and British ministers.
MagdaHavas.com
Dr. Magda Havas, PhD's site presents information related to the subject of electromagnetic fields (EMF) that originate from our use of electricity and wireless communication technologies, and the harmful health effects that EMFs have on human health, wildlife, and nature.
MagdaHavas.org
Dr. Magda Havas, PhD's academic website provides a collection of her publications, technical reports, open letters, testimony as an expert witness at hearings, and invited presentations on chemical and electromagnetic contaminants.
Mast Action UK
National campaign for the sensible siting of cell phone masts in the United Kingdom.
Mast Victims
Website dedicated to a international community of people suffering adverse health effects from masts and antennas in the vicinity of their homes.
Mastedatabasen
Search existing & future mobile phone masts in Denmark.
Microwave News
For more than 25 years, Microwave News has been reporting on the potential health and environmental impacts of electromagnetic fields and radiation. They are widely recognized as a fair and objective source of information on this controversial subject. They cover the entire nonionizing electromagnetic spectrum, with special emphasis on mobile phones and power lines, as well as radar and broadcast towers.
Mobile-free area to attract tourists
Canadian valley uses novel argument to stop mast plans; article by Phil Lattimore, for Tech.co.uk.
Occupational Injury in the Office
Are chemicals in computers the explanation for electric sensitivity? A 2001 interview with Swedish journalist and author Gunni Nordstrom whose work over two decades is a unique contribution to the history of Occupational Injury.
Odd Allergy
Article by Jodie Sinnema of The Edmonton Journal about electromagnetic hypersensitivity, a condition that the World Health Organization is co-ordinating worldwide studies on, noting the "symptoms are certainly real" and "can be a disabling problem," but that it isn't a medical diagnosis.
Safe Living Technologies
If you have problems with radio frequencies, you might want to experiment with some of this stuff: RF meters, RF meter accessories, RF detectors, anti-radiation headset, RF shielding fabric, RF shielding bed canopy, foil, inner wall shielding, RF shielding paint.
Shock to the system
Article in the UK's Daily Mail by Diana Appleyard entitled: Shock to the system: The woman paralysed by her body's own electrical charges
Sitefinder UK
Mobile phone base station database—get detailed information on existing & future masts and antennas in the United Kingdom.
Spanish village votes to remain mobile-free
Article by Edward Owen from Telegraph.co.uk: "A small village in southern Spain has chosen to hold back the tide of modernity by voting against plans to spread mobile phone coverage to their remote corner of the country."
TETRAwatch
A research-based campaign against tetra airwave. From the homepage: "The government, government scientists and [this industry] will be responsible for more civilian deaths in peacetime than all the terrorist organisations put together." Barrie Trower, independent scientist
Using wi-fi has cost me my life
Article in London's Sunday Express about Faisal Khawaja, a 28-year-old photography assistant-working for clients such as Mercedes, BT and Starbucks for only a year when he says he began to feel ill using mobiles and wireless laptops.
Veil of Protection from Modern Life
Article in London's Daily Mail titled The woman who needs a veil of protection from modern life, by Victoria Moore, 27th April 2007 about a woman with severe electro-magnetic sensitivity and how she is coping.
WEEP Initiative
Group created to inform the Canadian public about the potential environmental effects associated with various forms of electric and electromagnetic emissions by disseminating up-to-date scientific information on the subject of the effects of electromagnetic emissions on the human populations and ecosystems and by encouraging a thorough implementation of the precautionary principle with respect to electromagnetic activity.