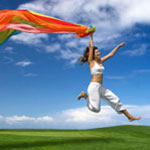 Dear Dr. T,
Do you see problems with irregular cycles, hormone imbalances, ovarian cysts, vaginosis, endometriosis, or other GYN problems in women with FM/CFIDS?

Dr. Teitelbaum's response:
Yes, especially hormonal imbalances, irregular periods, and endometriosis. There is also an increased frequency of polycystic ovary syndrome associated with elevated DHEA—S and testosterone as well as glucose intolerance. This can result in infertility, which responds well to treatment. In addition, elevated prolactin is common in associated with the hypothalamic dysfunction (and rarely pituitary adenoma). This can also result in infertility, and also responds excellently to therapy.
Jacob Teitelbaum, M.D.