posted in <<Lyme & Co-Infections > TREATMENTS
Miracle Mineral Supplement (MMS)
developed by: Jim Humble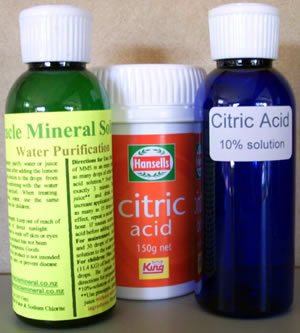 A new supplement called "Miracle Mineral Supplement" or "MMS" has been sweeping the Internet health groups in the past year. The solution supposedly kills the pathogens—including Lyme bacteria and co-infectors—that suppress one's immune system. The immune system can then kick in and the body can heal itself.
From mmsmiracle.com:
What is MMS?
The MMS solution is 28% sodium chlorite in distilled water. When activated as directed (1:5 drop solution using vinegar, lemon juice, or a 10% solution of citric acid), chlorine dioxide is produced. Chlorine dioxide is a chemical compound with the formula ClO2. Prominent uses include water purification, oral hygiene, and more recently, dietary supplementation.

o Chlorine dioxide is used in many industrial water treatment applications as a biocide including cooling towers, process water and food processing.

o Chlorine dioxide was the principal agent used in the decontamination of buildings in the United States after the 2001 anthrax attacks.

o Chlorine dioxide was also used after Hurricane Katrina (2005) to eradicate dangerous mold from houses inundated by water from massive flooding.

o Chlorine dioxide is less corrosive than chlorine and superior for the control of legionella bacteria.

o Chlorine dioxide is more effective than chlorine against viruses, bacteria and protozoa – including the cysts of Giardia and the oocysts of Cryptosporidium (parasites).

o Chlorine dioxide can be used to kill "disease-bearing bacteria, yeasts, molds, fungi and algae".

o Chlorine dioxide can be used to kill MRSA and other deadly pathogens.

Jim Humble, a metallurgist, gold prospector and chemist discovered this simple health drink cure for malaria in South America and later used it in Africa to treat over 2000 malaria victims. Those he trained treated more than 75,000 additional malaria cases while he was there.

Although used for years for other reasons, Jim was able to improve the effectiveness of the solution by adding a few drops of vinegar to the drink. Since that time the solution has been used with success to treat thousands of other health conditions.

Jim's immediate goal is to return to Africa to eliminate all of the malaria in a single African nation in order to prove to the world that it is possible.
Download Part I of Jim Humble's eBook FREE
Download Part II of Jim Humble's eBook $12.95
Download the hardcover book (Part I & II) $21.95
Read personal experiences with MMS
Join the MDI_News@yahoogroups.com support group
purchase MMS from mmsmiracle.com

From the GlobalLight.net website: "While it technically stands for "miracle mineral supplement," the term "MMS" has begun to be recognized as shorthand for a remarkable protocol for safely delivering chlorine dioxide—a powerful oxidizing agent—into the body."
Quotes from Jim Humble's book:
"This Breakthrough can save your life, or the life of a loved one. Please read…
"The answer to AIDS, hepatitis A,B and C, malaria, herpes, TB, most cancer and many more of mankind's worse diseases has been found. Many diseases are now easily controlled. More that 75,000 disease victims have been included in the field tests in Africa. Scientific clinical trials have been conducted in a prison in the country of Malawi, East Africa."
"Separate tests conducted by the Malawi government produced identical 99% cure results."
sources: mmsmiracle.com, miraclemineral.org, globallight.net
Leave a reply