how to encourage your children to enjoy fruits & vegetables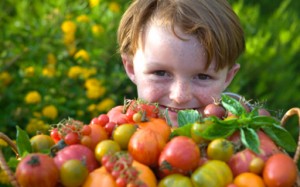 source: nourishedkitchen.com
The question comes up more than you know – countless emails flood my inbox from mothers wondering exactly the same thing: How do I get my kids to eat vegetables? I struggle in my response because I do not have a picky eater. My little guy enjoys a variety of foods from spicy tom yum gung to kombucha, from asparagus to zucchini, and he rarely turns his nose up at anything.
Before delving into how to get children to eat their vegetables, we should change our perspective a touch. We should focus not on how to persuade our children to simply eat their vegetables; rather we should focus on how to encourage our children to enjoy vegetables. After all, we eat the foods we enjoy. And nothing will perpetuate a three-year-old's innate obstinacy quite like maternal nagging.…read the rest

This is a great article on how to teach your kids to enjoy fruits and vegetables from a young age. Tips include: 1) Start early…really early; 2) Grow your own; 3) Don't hide them; 4) Make it fun; 5) Lead by example; 6) Try, try again; 7) Know when to give it a rest. Definitely a good read for all parents, and it might even encourage you to improve your own diet as a role model for your child: "Eat well, and your children will learn to eat well. They're looking to you to show them the way in this and in many other aspects of their lives."
Here at Planet Thrive, we believe that taking responsibility for one's food sources is one of the most radical acts one can take in today's world (the other one being living a chemical free lifestyle). Families that garden together and share organic whole food meals are setting up a strong foundation for a lifetime of health for their children—and the planet. Learning to love whole foods and savor slow-cooked meals seems subversive in a culture that is addicted to fast and packaged foods and the quick-fix pill. Start your own personal revolution and begin growing your own food today! With health care reform all over the news of late, this is the best kind of preventative care we can think of—start 'em appreciating their organic spinach and broccoli young!! read the full article