a senior with environmental illness hopes to avoid homelessness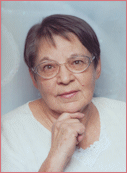 On November 14, 2009, at 7pm in Bremerton, Washington, friends of Bene Barrymore will gather at the Knights of Columbus Hall to help raise funds to prevent her from becoming yet another homeless statistic of environmental illness. An artist and poet, 77-year-old Bene struggles for her survival every year during pesticide spraying season, when she is forced to live in her car to avoid the neurotoxic fumes. She is now at the point that she feels she just "cannot go on" if she has to continue this lifestyle year after year. "I just can't go through this again," she says.
The fundraiser was organized to try to help Bene raise the funds needed to move to a new home where neighbors are not spraying. Jeryl Kay Struble, a singer-songwriter just becoming aware of her own chemical sensitivities, will be performing.
On a website devoted to her struggle, Bene writes in a poignant essay:
I can't do this anymore; I'm losing strength and purpose. I've tried so hard to survive so I can contribute my talent, my knowledge and help to other with environmental illnesses.. Emotions right now are all over the place. One minute, I'm connecting with wholeness and the next I'm crying, scared to let it in because if a wonderful turn around doesn't happen, I'll be "here" again and I can't bear this anymore!"
Unfortunately, many of us can relate to the sentiment and way of life. But at age 77, shouldn't she be able to rest in security and safety in her own home rather than experiencing the trauma of homelessness every year? Of course we all deserve that no matter what age, but to imagine our retirement years spent on the run in terror like that is a fate we don't wish on anyone.
If each of us can give a small (or large!) amount toward her cause, she may be able to avoid spraying season for years to come. If you are able to give, please donate what you can by sending a check or money order to:
Bene's Battle
P.O. Box 1415
Bremerton, WA 98337
or make a PayPal donation right now by clicking on the "ChipIn!" button below:

For more information on Bene's battle, check her website.