October 27, 2009
Typical Symptoms of Tick-borne Infections



by Steven J. Harris, M.D.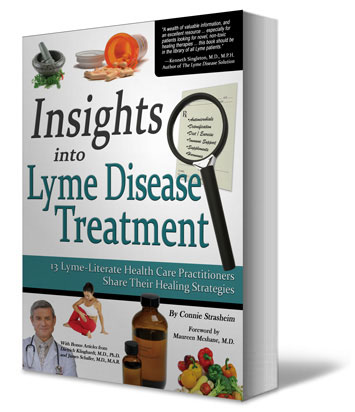 Steven J. Harris, M.D., a lyme-literate physician practicing in California, shares his observations on the symptoms sets associated with tick-borne infections commonly seen with Lyme disease.

Babesia
Since tests don't always reveal whether patients are co-infected, I also rely on clinical diagnoses to determine which infections, besides Borrelia, are present and causing problems for my patients. For example, if my female patients aren't menopausal, (I can check hormones to verify this) and have night sweats, flushing, severe pressure-like headaches, violent nightmares or vivid dreams, significant shortness of breath in the absence of another cause, frequent sighing or dry coughing in the absence of cardiac issues, then they may have Babesia. To ascertain the diagnosis, I might give them a clinical provocation test, especially if their lab test results are negative. For the clinical provocation, I might ask them to take herbs such as cryptolepsis or artemisia, as I observe their reaction to these. Dr. Tod Thoring in Arroyo Grande makes a cryptolepsis compound which consists of cryptolepsis, smilax, and boneset, as well as a cryptolepsis, artemisia and teasel cream, which are quite effective for this purpose. I may also use the herbal formulas Enula and Mora (NutraMedix brand), or some of the rizol oils (BioPure). Positive patient response to any of these can indicate that a parasitic infection is present. I'm not always 100% certain that the parasite is Babesia, but the tests help me to better estimate what it is. I will also sometimes do a provocation test in those already known to be infected with Lyme, using hydroxychloroquine and Zithromax, or Flagyl with Zithromax, because Babesia responds to these medications, too.
Bartonella
Typical symptoms in those with Bartonella and Borrelia (unlike the Bartonella that results from Cat Scratch disease) include ice pick-like headaches, major photophobia, anxiety or psychiatric issues, and even bi-polar symptoms. Neuropathy, reflex sympathetic dystrophy (RSD) or autism may also manifest, as well as significant cardiac or gut problems. The non-blanching "streaks" that some people find on their skin may also be a telling symptom. Some argue that plantar fascial pain is found in both Babesia and Bartonella, but I think that it is more related to Bartonella. In any case, whenever extreme anxiety is patients' overriding symptom and is found in conjunction with neuropathic symptoms, such as burning pain, then I suspect that a Bartonella-like organism is causing these symptoms.
Ehrlichia and Anaplasma
If patients have profound fatigue and severe muscle pain, especially in conjunction with high liver enzymes, low white blood cell counts and fevers, they may have Ehrlichia.
Mycoplasma
Because Mycoplasma is an intracellular organism, it's difficult to test for, but many of my patients have it. Persistent arthritis, especially in one joint that is really swollen, or a rheumatoid arthritis presentation indicate the possible presence of Mycoplasma. In children, major psychiatric problems may also indicate that the infection is present.
Lyme (Borrelia)
People with Borrelia can have all of the aforementioned symptoms, as well as many others, because Borrelia runs the gamut of symptoms. For that reason, those with this infection may feel bad in a number of different ways. Symptoms usually migrate with this infection, however, and/or tend to flare for four to seven days per month.
Also, I think that co-infections, such as Babesia, Bartonella, Ehrlichia are generally not important factors in patients' overall symptom picture unless Bb (Borrelia burgdorferi) is present to give them a foothold.
I do find that some of my patients have only Bb, without any other co-infections, especially those that have been sick for more than twenty years. Such patients have been living at a lower level of functionality, and may have been suffering from symptoms of generalized pain, fatigue and cognitive issues for a tremendous amount of time. Yet, because their problems tend to be mostly related to pure Lyme disease (Borrelia), they are often easier to treat than the co-infected patients.
Other Symptomatic Trends
Another trend that I have observed is that almost all of my patients that have Lyme disease (Bb) along with rheumatoid arthritis, MS (Multiple Sclerosis), Alzheimer's or Parkinson's, are also likely to have Babesia. If I had to guess, I would say that at least a third of all Lyme disease sufferers have co-infections, and possibly more.
Excerpted from Connie Strasheim's recently published book Insights into Lyme Disease Treatment. learn more: author | publisher | amazon

Steven J. Harris, M.D. has been in private practice since 2001. Dr. Harris is a medical doctor (MD), board certified in Family Practice. Since 2001, Dr. Harris has focused his practice on the diagnosis and treatment of Lyme disease and other tick-borne co-infections. His approach to Lyme disease incorporates strategies found in conventional, functional and complementary medicine, with a healing philosophy similar to that of Drs. Richard Horowitz, Greg Bach, Joseph Burrascano, Therese Yang and Dietrich Klinghardt. He believes that infections are a significant part of the disease process, but that (in the words of Klinghardt) "impaired physiology, biotoxin load, and immune dysregulation" are what determine the individual flavor of the disease as well as how sick people will be. Dr. Harris has taken a leadership role in CALDA (The California Lyme Disease Association), and is also an active member of ILADS, (The International Lyme and Associated Diseases Society).
Leave a reply