November 24, 2009
Coping with Chronic Illness During the Holidays



by Cynthia Perkins, M.Ed.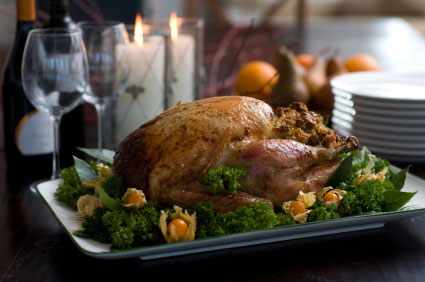 Coping with chronic illness on any day can be quite challenging, throw a holiday in the mix and you sometimes have a recipe for something not so delicious.
Although the holidays are supposed to be full of joy and happiness, this is not always the case. They can also be stressful and overwhelming even for the average folk, and for those living with chronic illness, it can add more stress and strain to an already overburdened body and push your coping skills to the limit.
Instead of visions of Sugar Plums dancing in your head, the holidays can be a time when feelings of dread, depression, sadness, loneliness, and anxiety pervade. Having chronic illness can accentuate these unpleasant feelings. You may be reminded of holidays in the past before you were ill and long for the days of yesteryear. Television, books and movies, etc. set us up with unrealistic expectations of the way the holidays are supposed to play out and when it doesn't unfold like this in our own lives, it leaves us disappointed and yearning for something more.
There is a great deal of pressure from society to join the rat race, but don't allow yourself to be caught in the hype. It only builds you up and then gives you a huge let down.
Here are a few tips to make it all a little easier:
• Remember giving doesn't have to be expensive or materialistic. Gifts from the heart are often cherished even more. Give of yourself. Share intimate quality time with loved ones.
• Keep things simple. Remember that the holidays are really about giving, loving and being thankful.
• Cherish and enjoy your precious moments with loved ones.
• Prepare and plan ahead.
• Get lots of clean air, pure water, rest, and exercise.
• Avoid sugar and unhealthy snacks. These will only exacerbate symptoms and aggravate depression. Make your own healthy alternative snacks sweetened with fruit, agave, yacon syrup, stevia or other healthy sweeteners.
• Take these snacks with you when you go to social events. Find alternatives to eat; don't go without so that you feel deprived.
• Allow extra time to prepare for social events. Don't take on too much.
• Avoid crowds; shop early. Make homemade gifts, give gift certificates, or take advantage of catalogs and online shopping.
• Acknowledge and be aware of your feelings. You don't have to feel a certain a way. Allow yourself to feel whatever it is you feel.
• If you're feeling sad, allow yourself to grieve.
• Take naps.
• Don't set expectations too high. Your holiday doesn't have to be perfect.
• Prioritize and minimize. Don't overdo.
• Communicate your needs and feelings to others.
• Don't forget to give yourself a gift. (A massage, book, extra time in bed or something special you've wanted for a long time,)
There is no doubt that coping with chronic illness through the holidays is challenging, but if you slow it down, remember what's important and be good to yourself, you can get through it a little easier. Create new holiday traditions that are nurturing, allow yourself to indulge in something delicious, yet still healthy (like a bowl of soy, dairy and gluten free Coconut Bliss ice cream, a slice of apple pie sweetened with chicory root, or some organic popcorn), savor your moments with loved ones, and you might find that you'll actually look forward to the holidays next year.

Cynthia Perkins, M.Ed. is a holistic health counselor helping individuals with chronic illness or chronic pain to live life more fully and author of Living Life to the Fullest: Creative Coping Strategies for Managing Chronic Illness. Cynthia lives with the challenges of MCS, FMS, CFS, trigeminal neuralgia and chronic migraines.
Leave a reply