posted in <<Electrical Sensitivity News > NEWS
Dr. Mercola's New EMF Site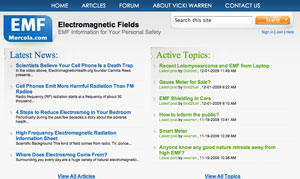 Dr. Joseph Mercola now has a part of his popular health website devoted solely to electromagnetic fields (EMFs): EMF.mercola.com. The site functions as a stand-alone website and features articles by Vicki Warren, an electrical engineer and the current Executive Director and Indoor Environmental Consultant of the Institute for Bau-Biologie and Ecology (IBE), a non-profit educational institution that integrates technical knowledge, biological understanding and ecological sensitivity to make healthy homes and workplaces. Some of the articles Vicki has written that are available on the site include: Scientists Believe Your Cell Phone Is a Death Trap, 4 Steps to Reduce Electrosmog in Your Bedroom, Creating a Sleeping Sanctuary, and Is Your Cordless Phone Zapping Your Energy?
On the website, Vicki says:
Did you know that most of the health risks we face today are caused by our indoor environment? Sleeping disorders, chronic fatigue syndrome, severe headaches, allergies, depression, respiratory problems and other conditions are influenced by the nature of our homes. The specific presence of electromagnetic fields (EMF) in our living spaces makes us more prone to electromagnetic radiation and other toxins that can harm our health.

As a building biologist, I want to help raise your awareness on things such as EMF so you can protect yourself from these and avoid health risks. I believe that improving the quality of your homes, which means making them more nature-friendly and safer from EMF, can dramatically enhance your health.

Coupled with my background in electrical engineering, I will share with you my expertise in this area to help you understand technical information that you can apply easily in your daily life.

Here at EMF.Mercola.com, you can read through my articles on how to make informed lifestyle choices to minimize or eliminate your exposure to dangerous EMF. I also encourage you to participate in our discussion forum, where you can interact with me and other members of the Mercola Community. Just consult this site whenever you need handy information on organizing a healthier home."
Looks like a great new resource, and we will add it to Planet Thrive's electrical sensitivity section. You might also want to read the article I wrote about this subject titled Reducing Electromagnetic Frequency Exposure May Improve Your Health, published on NaturalNews.com, in the NEEDS newsletter, and of course on Planet Thrive in our thrive! Journal.
Leave a reply