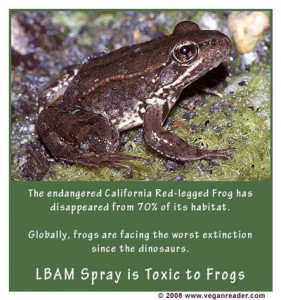 This just in from Stop the Spray East Bay: On Thursday, the law firm Earthjustice wrote to the California Department of Food and Agriculture on behalf of Stop the Spray East Bay and several other cities and groups, objecting to CDFA's preparing to hang apple moth twist ties in residential neighborhoods in Manteca and Los Osos when the environmental impact report on the apple moth treatment program has not yet been completed…the twist ties contain not only the synthetic apple moth pheromone whose long-term exposure safety has not been tested, but undisclosed so-called "inert" ingredients [as well]. Twist ties are designed for agricultural, not residential use and are being used in the LBAM program under the same "emergency" exemption given to the 2007 LBAM aerial spray that resulted in hundreds of illness reports. The press release that Earthjustice issued is below.

FOR IMMEDIATE RELEASE
December 10, 2009
Contact: Erin Tobin, Earthjustice (510) 550-6700
Nan Wishner, Stop the Spray East Bay (530) 467-3069
California Agriculture Agency Approves Pesticide Projects Without Informing the Public of Environmental Effects
CDFA sidesteps environmental reporting requirements for moth eradication projects
A coalition of environmental and citizen organizations and cities objects to California Department of Food and Agriculture (CDFA) plans to use pesticides in residential areas as part of the light brown apple moth eradication effort without first complying with state environmental law.
The environmental law firm Earthjustice sent a formal letter of objection today on behalf of several groups and cities, including Our Children's Earth, PANNA, Mothers Advocating Against the Spray, Pesticide Watch, Mothers of Marin Against the Spray, PlayNotSpray, Stop the Spray East Bay, Center for Environmental Health, Californians for Pesticide Reform, the cities of Berkeley and Albany, and Albany City Council Member Robert Lieber. The letter says that CDFA should halt plans to broadcast chemical-saturated twist ties in Manteca and Los Osos, at least until the agency completes an environmental review of the apple moth eradication program as required by the California Environmental Quality Act (CEQA).
The Isomate LBAM-Plus twist ties to be placed in Manteca and Los Osos this month are saturated with a synthetic apple moth pheromone which, according to product warning labels, can be harmful if absorbed through skin and can cause eye irritation. The pheromone may also be toxic to aquatic life and dangerous to birds, and may harm other moths and butterflies, as well as domestic animals. The twist ties also contain other "inert" and "inactive" ingredients that have not been disclosed to the public.
Since more than 600 people on the Central Coast reported illness after apple moth pesticide spraying in 2007, the eradication program has been resoundingly criticized. The National Academy of Sciences concluded recently that the program does not have a rigorous scientific justification and the degree of risk posed by the moth is questionable.
CDFA workers plan to affix the twist ties to trees and shrubs on public and private property. The pheromone-laden twist ties are designed to attract and confuse male light brown apple moths seeking to mate. Scientists have criticized the use of the twist ties as an eradication tool saying that they are only effective to control, not eradicate, insects in relatively small, uniformly planted agricultural areas. The twist ties were not designed for use in residential settings.
CDFA published a draft environmental impact report (EIR) on the apple moth program in July but has yet to complete the final EIR. The draft EIR covered the apple moth program as a whole; CDFA has not prepared site-specific analyses of the Manteca and Los Osos twist tie projects, claiming those projects are exempt from environmental law.
In the coalition's letter of objection, sent today to CDFA, Earthjustice attorneys Erin Tobin and Deborah Reames explained that CDFA must comply with CEQA requirements before undertaking eradication activities, including the twist tie projects, because such activities are not exempt from state environmental law.
"CDFA's purpose is to protect the agriculture industry's bottom line, not the environment," said Erin Tobin of Earthjustice. "Californians need to be protected from an agency dead set on eradicating a harmless species that has likely existed in California for years. We call on CDFA to abide by CEQA and to account to the public for the potential effects of these pesticide projects on people, their pets, and wildlife."
"The purpose of CEQA is to ensure that the risk of projects is evaluated before they are carried out, not after people get sick and the environment is harmed," said Nan Wishner, spokesperson for Stop the Spray East Bay. "There are clear risks to health and the environment from the apple moth pesticides and no documented risks from the apple moth, yet the agency is proceeding without completing the required environmental review."
"Implementing components of the CDFA's eradication program prior to completion of the environmental reviews is not only inappropriate, it is unethical," states Carolyn Cohan, Ph.D., Integrated Pest Management Chairperson for MOMAS. "We are strongly opposed to the CDFA's entire moth eradication program and realize that eradication programs just don't work. Times have changed, and the old methods of releasing chemicals and pesticides all throughout the environment, which puts our health in danger, must be stopped. We must look to the future in sustainable ways that will not harm the environment, the animals and our children," she states.
Background
The light brown apple moth (Epiphyas postvittana), native to Australia, was detected in California in March 2007. By the time it was detected, populations of the moth had established themselves through a wide swath of California, from Los Angeles to Napa counties. Given its wide distribution and inconspicuous nature, scientists say that it is likely that the moth had been in California for years, even decades prior to detection. The moth has done no documented damage in California.
In Hawaii, where the moth has been established for over a century, that state's Department of Agriculture says the moth "has not been a significant pest," even finding it helpful in controlling a few invasive plant pests. The moth is also not considered a significant pest in New Zealand where it has been present for more than 100 years.
Given the moth's inability to reproduce successfully outside of temperate, moist marine climates, scientists say that the species is unlikely to pose a threat to California's agricultural heartlands in the Central Valley.
In September 2009, the National Academy of Sciences published a report criticizing a U.S. Department of Agriculture proposal to continue to regulate the apple moth as a pest because it was not supported by rigorous science. The report challenged USDA's assumptions about the risk posed by the apple moth, the extent of its potential geographic distribution, and the damage it could potentially do to plants in the continental US.