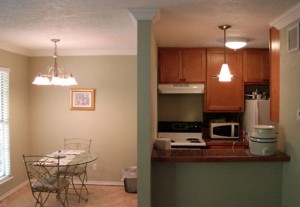 As of December 1, 2009, a few select Regina Caeli Environmental Condos in Dallas are being offered for sale at $105,000. The remainder of the condos are available as rentals on a daily, weekly, monthly, or long-term basis. Buyers may be eligible for the First Time Homebuyers Tax Credit of $8,000 or the Repeat Homebuyers Tax Credit of $6,500 available until April 30, 2010. More information about these tax credits is available at www.irs.gov — click on Homebuyers Credit and go to the First Time Homebuyers page.
The 1 bedroom condos have 1 bath and are approximately 500 square feet. They were designed specifically for those with MCS, and are located near Dr. William J. Rea's Environmental Health Center of Dallas as well as the office of Dr. Alfred Johnson D.O. and Associates, and are close to several biocompatible (MCS) dentists.
Features include all electric appliances (no gas), ceramic tile floors, and a fully equipped kitchen with range. No pesticides were ever used. For additional features and photos, please see the housing listing on MCSsafehomes.com.
For information about condo rentals or sales, call Earl at (469) 556-5049 or email him at
earlremmel@netzero.net. You can also visit the website at safehousingdallas.com.