article about Julie Laffin published in today's Metro section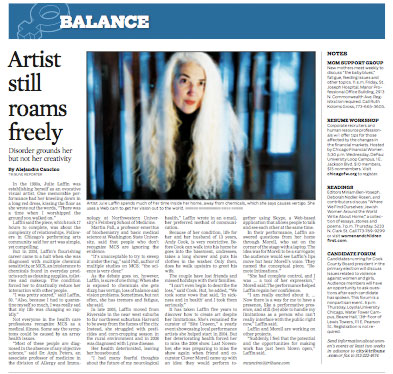 Julie Laffin, a Chicago-based performance artist who has transformed her work as a result of becoming severely chemically sensitive, has been featured (click here for the condensed online version of the article) in the Metro section of the Chicago Tribune. Tribune reporter Alejandra Cancino writes of the struggle and losses Laffin and her husband Andy Cook have had to endure due to the illness, and how Laffin has been able to evolve her work to accommodate her illness — and at the same time, help to educate others about it.
The article is compassionate and positive and does nothing to detract from the serious physiological nature of the illness, as most mainstream media has felt the need to do in past articles featuring chemical sensitivity. Bravo to Laffin, Cancino and The Chicago Tribune for presenting an inspiring account of one woman's struggle to overcome a serious and severely isolating disability.