by Eliana Jantz – bed designer and founder of Shepherd's Dream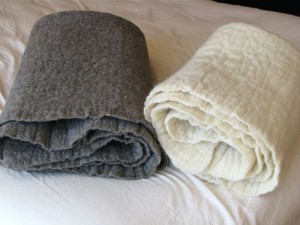 Ever since being witness to the transforming of a large, fluffy piece of our batting into a stable wool felt I have been hooked on the idea of creating a mattress from layers of felts. I now sleep on layers of felts and what can I say. Well, to start, I am completely fulfilled in my life long mission to arrive at an ideally designed bed! The felts provide a resilient yet firm sleeping surface that I can easily adjust by adding or subtracting felts according to my changing needs. They are ideal for floor living and floor sleeping. Felts are machine and hand washable and dry quickly. In the warmer weather I use a flat sheet over the top felt. In cooler weather I sleep right on the felt itself which warms me instantly! The feel of the cozy wool felt against my skin is immediately relaxing and helps me fall asleep quickly. Even with direct wool felt to skin contact I have never had any problems with itchiness. An important advantage of the felted bed is that you can begin with one as a mattress topper and continue to add layers through the years. Felts are extremely versatile and easy travel mates. The many uses for felts inspires the imagination. My home is filled with them in every room of the house. Even my kitchen chairs are cushioned with felts.
Wool felts are a wonderful 'felting' between nature and humanity. A gift of true comfort for humans. We are now forming a felting collective in Montague, an offshoot of Shepherd's Dream. We are now in the process of developing a breathable bamboo/reed matting to be placed over the slatted bed frame to accommodate the felted bed. Felts are available in dark gray and white in all sizes including camping felts and torso felts. Ideal for anyone spending a lot of time in bed. Helpful for bedsores and all kinds of body discomforts. Will minimize muscle pain and neurological pain. True medicine for the body, mind, emotions and spirit.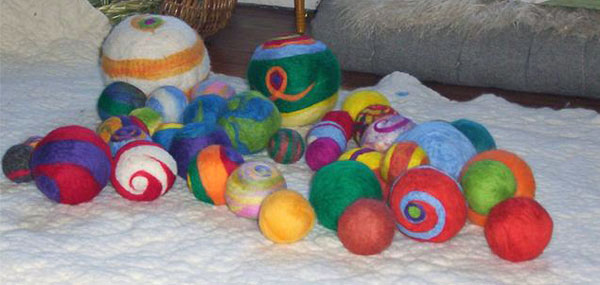 Nothing to waste: Most of the leftover pieces of wool go into making
colorful, decorative felt balls.

Recently, during the first public unveiling of the layered felt bed here in Montague, I invited everyone to lay down on the felted bed and tell me how many layers they 'felt' made the perfect bed. My dear friend and collaborator, Debra Dadd, (Queen of Green according to the New York Times) happened to be visiting. Here's what she wrote :
"INNOVATIVE NEW NATURAL BED
Over the weekend I went up to Mt. Shasta to visit Shepherd's Dream and see their latest innovation in natural beds. Every once in a while Eliana Jantz rethinks how a mattress can be constructed, and this time it's the simplest bed possible.
The new mattress design is a cozy pile of wool felts, made from pure Eco Wool batting, and that's all. These are not felt fabric, but felted wool batting, about two inches thick. A pile of four makes a comfortable sleeping surface; a pile of seven is dreamy. They are supportive, yet soft, and mold to your body. In addition, felts are lightweight (so you can pick them up easily and carry them around for airing and sunning) and they are washable.
I ordered one to use as a mattress pad over my wool mattress. For years I have had a wool mattress pad that is strands of wool sewn to a wool backing. But after a quarter of a century, it's matted and worn. While I have a wool-filled topper, I prefer wool under my sheet instead of the cotton cover of the topper.
I am in love with this material and am thinking of all kinds of ways to use it. Eliana has made felt pads for all her chairs, and had a felt on the bathroom floor for a rug. I want to make a winter coat. It's just a great renewable, chemical-free, biodegradable, durable, beautiful material with lots of possibilities."