help a senior with environmental illness get her car repaired before spraying season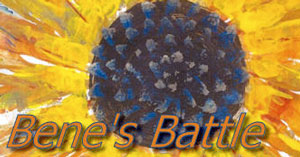 I can't do this anymore; I'm losing strength and purpose. I've tried so hard to survive…Emotions right now are all over the place. One minute, I'm connecting with wholeness and the next I'm crying, scared to let it in because if a wonderful turn around doesn't happen, I'll be "here" again and I can't bear this anymore! – Bene Barrymore

We wrote about Bene Barrymore's struggle with environmental illness back in October of last year. The 77-year-old artist and poet is worried about enduring yet another pesticide spraying season, just three weeks away. As is common for those more vulnerable to pesticides who find themselves trying to negotiate with pest control companies, one of the spraying companies near Bene refuses to give her fair warning prior to spraying her neighbors' lawns. This makes it very difficult to prepare before a spray to adequately protect herself.
To make matters worse, fiber optics are being installed across from her home, which will cause EMF problems for her. Rather than sitting at home enjoying a comfortable retirement as she approaches 80 years old, Bene feels she now has to move to save her health, and has found a place that may work several states away but her car transmission is going out and unless she is able to fix it, she cannot get there. Bene is on a severely limited income, so she will need financial help to repair her car in order to get to the new house, and she may also need help renting a U-Haul and buying food, gas, and some essentials for the trip.
Friends held a fundraiser for her in November 2009 but the funds that were collected will not cover repairing the transmission in her car. Bene is more than willing to make this cross-state trek alone (which at her age is quite impressive); she just needs financial help getting there. If you are able to help Bene out financially during this very stressful time, please donate what you can by sending a check or money order to:
Bene's Battle
P.O. Box 1415
Bremerton, WA 98337
or make a PayPal donation right now by clicking on the "ChipIn!" button below:

Visit her website to find out more about Bene's Battle.