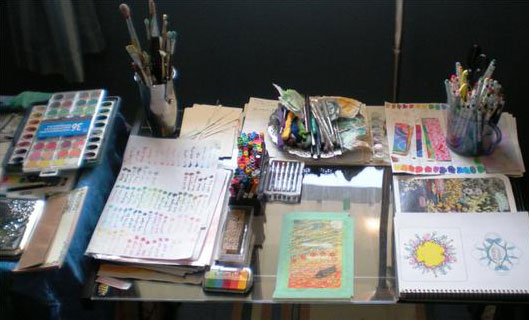 My Creativity Station

As part of my healing journey out of severe chemical sensitivity, I am using art to connect with the "Divine" within me and rekindle my joy at being alive. I enjoy using both words and imagery. I find inspiration for my work in the natural world, as well as the online world – in websites of artists, poets, crafters and out-of-the-box thinkers. I aim to have creative time weekly and when possible, every day – even if for only a few minutes. That creative time is the fastest way I know to get into a meditative state and I find it very healing.
Some of my inspiration comes from sites like Creative Every Day (CED) that give monthly or weekly optional themes.
The CED theme for February, which I'd like to share here, was "home."
I invite you to explore your relationship to the idea of "home."
If you like to jump right into things, you can choose a medium you enjoy and try just going with the flow and see what comes up. There are no mistakes in creative exploration! Although my images involve houses, the idea of home can be expressed in so many ways and I encourage you to not censor yourself.
If you like to explore by thinking or writing, you can see if any of these questions/prompts spark your interest, or write your own:
• What does home mean to you?
• What might your ideal home look like?
• How might you feel there?
• What might you enjoy doing in your dream home?
Below is an ink drawing I did in this theme. I'll show you the full color version in my next post. I did this drawing without thinking at all and learned something about my dream home in the process. I learned that plants, sunlight, windows and animals are all things that are important and make a house a "home" to me. I also learned that rounded edges feel much homier to me than linear lines.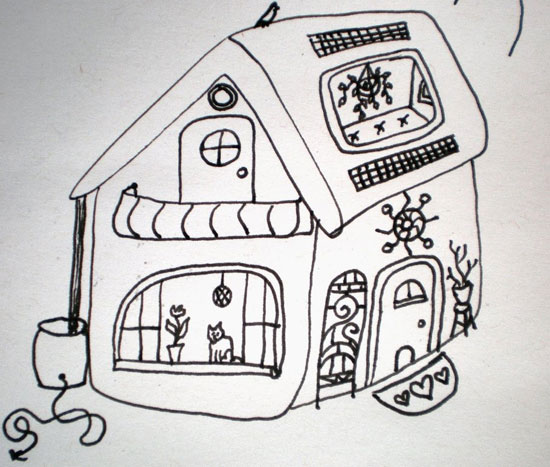 My Vision of Home
Materials used: permanent ink, fountain pen, ecojot sketchbook (paper whitened without chlorine).