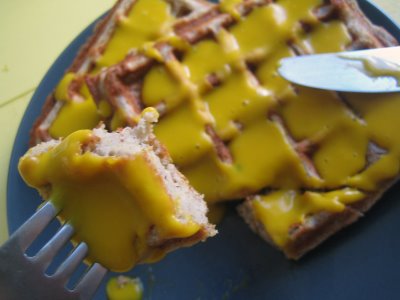 photo provided courtesy of affairsofliving.com

Today is buckwheat day, so it was time to pull out the old buckwheat groats and see what would happen. I always end up combining buckwheat with coconut it seems, I really like the flavors together. And this recipe is no exception! I think these waffles are pretty great, and each one packs a major nutritional punch. Buckwheat, amaranth, coconut, and flax seed all have lots of healthy fiber, as well being natural sources of healthy protein and amino acids. In fact, amaranth is one of highest sources of both in the gluten-free "grain" world, and along with buckwheat, is a great low glycemic "grain" option. And let's not forget about all the healthy omegas from the flax seed. Or all the benefits from the coconut. In addition to being ever so tasty, coconut provides a ton of nutritive value. Coconut oil and meat provide lots of healthy antioxidants, fatty acids, polyphenols, and vitamins, most notably lauric acid, capric acid, and caprylic acid, all of which have naturally antifungal, antimicrobial, and antibacterial properties. What does that mean? It helps to regulate healthy bacteria in the gut, for starters. That's important for everyone, especially those of us with pesky candida issues. And coconut is a good source of protein, and is also low on the GI scale.
This recipe uses the whole amaranth and buckwheat grains, not their flours. The soaking process helps to neutralize phytic acid, and starts the sprouting process, activating important enzymes, breaking down proteins, and making it more digestible overall. Hooray! So, make sure to leave time to let your grains soak before making this recipe.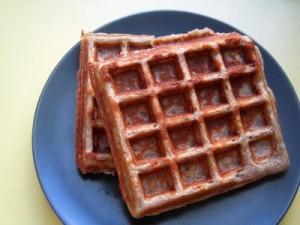 ingredients
3/4 c whole dry buckwheat groats
1/4 c whole dry amaranth grain
2 T shredded coconut
2 T coconut flour
2 T melted coconut oil
1 T ground flax seed
water to cover soaked grains + 1/2 c
1 tsp vanilla extract (alcohol and gluten free)
pinch cardamom
stevia (or agave nectar) to taste
1/2 tsp salt
1 tsp baking powder
1/4 tsp vitamin c crystals (optional, helps with leavening)

directions
Place buckwheat and amaranth to soak in water overnight or for at least 5-6 hours.
Drain grains well in a very fine sieve – amaranth is very small and likes to escape. If you don't have a fine sieve, just try dumping out as much of water as you can, or use something fine and meshy like cheesecloth.
Transfer to a blender, or if using an immersion blender, a large cup or bowl.
Level grains, and add just enough fresh water to cover. Add the coconut, coconut flour, salt, cardamom, baking powder, vitamin c crystals (if using), melted coconut oil, flax, vanilla, agave and stevia, and 1/4 c of the additional water. Blend well. Coconut flour absorbs liquid like crazy – so, if necessary, add the additional 1/4 c of water to make a thick, but still spoonable, batter. Let sit for 5-10 minutes for flax to absorb some of the liquid. If it seems too thick, don't hesitate to add a little extra water.
Heat up waffle iron, greasing lightly with coconut oil. When ready, fill waffle iron with batter. Close iron and bake as directed in waffle iron user's manual, until waffle stops steaming and starts to smell done. I found that about 8 minutes in my waffle iron yielded a well cooked waffle that had a beautiful golden color and seemingly impossible crispy crust.
Remove from iron and let cool a minute or two on a rack, the waffle will continue to crisp up.

ingredients
1 c organic lite coconut milk
1 1/2 c Kabocha squash, peeled and diced (or other dense, sweet squash like Hubbard or Buttercup)
optional, if more sweetness is desired: pinch stevia – or if sugar isn't an issue for you use agave or a little maple syrup (the maple would be really good!)
optional: fresh or dried ginger
optional: 1 T flaxseed oil

directions
Steam Kabocha until soft, or microwave in a covered dish with a little water for 5 minutes until tender.
In a blender or with an immersion blender, mix coconut milk and cooked squash until smooth, adding more coconut milk as necessary to reach desired consistency.
If desired, add a pinch or stevia or a squirt of agave to taste, some fresh or dried ginger for added kick, or a tablespoon of flax oil.
Serve warm over waffles! Freeze leftovers to use later. Or just eat it because it is that good. :)
Makes approximately (5) 5-inch square waffles and 2 cups of sauce

recipe courtesy affairsofliving.com