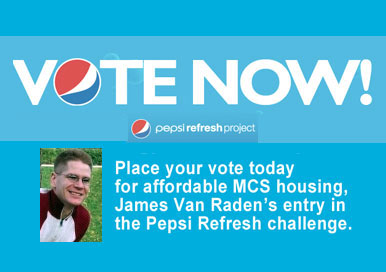 Get your vote in today for James Van Raden's "Build Sustainable Affordable Housing Across the United States" entry in the Pepsi Refresh Challenge.
Each month, Pepsi is giving away millions of dollars to fund great ideas that benefit a community in some way. Entries are selected by users – that means us! James has applied for a $50K grant as seed money to startup his MCS housing initiative.
The stated goals of James' proposed project include:
* To construct safe affordable housing for people disabled by MCS.
* To utilize sustainable wind, solar & geothermal building practices.
* To pioneer green housing developments across the United States.
* To be an example in the building industry for others to follow.
* To develop co housing communities that foster this initiative.
His hope is to develop a mainstream affordable housing model that can be used not only for people with MCS but to benefit all groups & ages. Voting can take place until April 30, 2010.
James is a 36 year old general contractor in Minnesota and North Dakota and he owns a design/ build company called Building Impressions. He grew up in the building industry and "seeks to be the change he wants to see in the world." He appeared online in MCS discussion groups recently, sharing his plan to build MCS housing projects. For more information on James and his ideas to help the MCS community, see his Facebook group Building the perfect MCS / EI houses and developments.
The page for James' MCS housing project on the Pepsi Refresh website provides many ways to help promote the challenge. So all you webmasters, blog owners, and Facebookers, go pick up a customized widget and start promoting this event for the month of April. Winners are chosen by us, the voters. Never before have people with MCS had control over obtaining grant money for a housing project. It's time to show our voting power – VOTE TODAY!