posted in <<Chemical Sensitivity News > Electrical Sensitivity News > Featured > NEWS
A Winding Path
by Loe Griffith and Kathy Hemenway

This is the story of how Loe Griffith has faced the challenges of chemical and electrical hypersensitivities (MCS and EHS), and how she adapted to her sensitivities and made a life in southern Arizona. She hopes that in telling her story she will be able to help others avoid some of the difficulties that can come from life in a toxic world.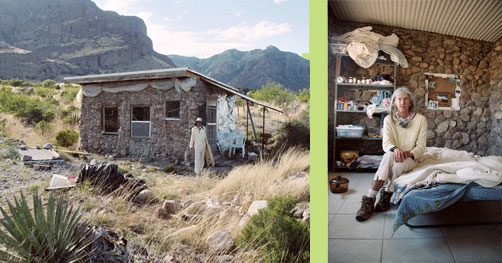 Becoming Chemically Sensitive
Loe first became chemically sensitive in the mid-80's.
She says, "The first time I was disabled, in 1986, I was living in LA and attending music school. I was into the music scene and used fragrances and dyed my hair. Naturally, smog was everywhere, as were pesticides–including a flea bomb in my apartment. My body was worn down by that, and by candida, and I became chemically sensitive."
Loe moved back home to Colorado and did many things to try to improve her health. She remodeled her home to make it less toxic, rotated organic foods, took Chinese herbs, had acupuncture treatments, looked into the spiritual roots of the illness, and she pursued Edu-K (a movement technique intended to improve brain function).
Her efforts paid off, and gradually Loe's health improved. She went to college to get a degree in elementary education, and after graduation she taught in Colorado before moving to Georgia and taking another teaching job. Altogether, Loe taught school for nine years.
Living with Toxic Mold in Georgia
Loe's health took a downturn while she was living in a house with toxic mold. In 2003 she was diagnosed with toxic brain syndrome, neurotoxicity from chemical exposure, and MCS.
Loe says, "I believe I would have died if I'd stayed in that house. My dog did die, poor guy."
In addition to mold, Loe says that other factors contributed to her health problems. She was exposed to solvents while the school was being painted during the school day, and to lots of pesticides (including a flea bomb in her house). She also had candida. Loe had let go of a lot of self-care routines and healthy habits, like rotating organic food. She stopped attending a support group for people recovering from childhood trauma. And she got too involved in work.
"I was also stressed from a divorce," Loe says.
Loe fell for a lot of different diagnoses and took a variety of medications, but they didn't help her get to the root of the problem.
"Sherry Rogers describes people going through this process in her book Detoxify or Die," Loe muses.
Loe also attributes her health problems partly to a failure to research them. "I didn't learn about detoxification. When I'd get a massage, I'd have flu-like symptoms, and that's a sign of toxicity. But I just quit massage. And I still didn't know about the herbicides that make weed-free green lawns (and increase cancer rates), and I didn't know that some communities fog for mosquitos. I thought I had food poisoning, when in retrospect the problem was pesticides. "
Becoming Electrically Sensitive
Loe moved to Minnesota to get into cleaner air and a less toxic house, but then she began reacting electrically to her housemates' appliances and to her car.
Loe attributes her electrical sensitivity to a variety of things, including high electromagnetic fields (EMFs) from old knob and tube wiring, and wiring errors. "I didn't know that both old wiring and wiring errors–which are common–could create high EMFs and lots of health problems," Loe says. Other exposures that she feels led to her electrical injury include mold, pesticides, and exposure to high EMFs during an MRI.
As has happened to many of us, to survive Loe had to leave the house she was living in. And she had no place to go.
Finding a Safe Home
Finally, Loe ended up in southern Arizona.
Like many people, she didn't realize that parts of Arizona get snow in the winter. She also learned the hard way about the EMF exposures caused by cell towers, high tension wires, and driving.
After a period of living in her car, Loe found a rock cabin. It's in a place that has no ground current and no cell reception.
"I turn my life and will over to the care of God daily, ask for God's will for me. And I try to listen. I was led all over southern Arizona from one person and place to another. It was a string of coincidences and miracles."
The roof of the cabin had fallen in, and Loe has been working on it for years with her boyfriend, David, and sometimes other neighbors. When she began the work, she lived in a tent nearby. But she has been living in the cabin for some time now.
She is incredibly grateful for the little rock cabin, and feels that God had a hand in connecting her with her landlords, a non-profit foundation that helps disabled people with housing. Her agreement with the foundation includes her making repairs and improvements to the property.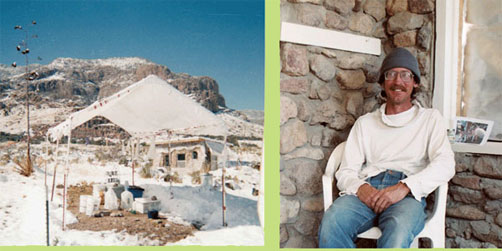 Setting Up the Basics of Life
As you can guess, Loe's life was still challenging even after she got into the rock cabin, since it's hard to arrange your living situation when you have both chemical and electrical sensitivities. It's an adventure to figure out how to cook, keep your food cold, and heat and cool your place. There are major trade-offs, and a lot of experimentation to minimize exposures. Cooking became a problem last spring due to pollen, as Loe's propane kitchen is outside. When it's been hot, she has had to evacuate due to heatstroke.
When it's cold, Loe has heat from a Trombe wall. "Solar heating from a Trombe wall helps me a lot, heat-wise, in winter. Having heat is a great blessing." A Trombe wall is a sun-facing wall built from a thermal mass (such as stone) that works together with an air space and glazing. The wall collects heat from the sun during the day and radiates it into the house at night.
Construction with MCS and EHS is an interesting experience also, especially when you're trying to do it in a small place you already live in. Loe needs to avoid rubber, to wash metal to remove machine oil, to test products by sleeping near them, and so forth.
"I use a hand drill, hacksaw, and other hand tools because of my electrical sensitivity. I use steel because I react to wood, and I am proud to be learning to use a pop rivet gun. I'm grateful for David's help, for having worked in construction many years ago, and for more experienced friends' advice."
Treatments for the Mind and Body
Although Loe has concentrated for several years on getting a safe place to live, she has also had some major health improvements as a result of treatments for both the mind and the body.
She attended Pleasant Valley's program called "For My Life" in Thomaston, Georgia. "For My Life" helps you resolve spiritual issues that can stand in the way of healing, such as self-criticism (a biggie for her), or resentment.
"While attending the program, suddenly I started thinking clearly, and I could sweat after not having been able to for years. Of course, sweating is an important detox mechanism."
Loe also benefited from an all-around detoxification program, and especially from provocation-neutralization therapy. Because she didn't fully realize the benefits at the time, however, she stopped taking the shots. Then she began reacting to all foods. Now she's starting Low Dose Allergen (LDA) therapy.
Still a Teacher at Heart
"I'm still a teacher at heart," Loe confides. "I'm blessed that I got to teach school. I love–and miss–kids. I'm doing some writing for children."
One of her dreams is to be able to help educate the general public about pesticides and electromagnetic fields. She would like to help people understand the truth about the health effects. For example, Loe would like to help people understand that the situation with cell phones is similar to what it used to be with cigarettes. People falsely assume–and industry defends–a level of safety that doesn't exist. Cell phones and towers damage brain cells, increase diabetes, and reduce sperm count.
"I'd like to use what I have learned–the hard way, by experience–to help other people avoid problems."
Challenges and Blessings
Loe is grateful to everyone who helps people with MCS and EHS.
She says "The supporters, spouses, and friends of people with MCS and EHS are angels. For years David traveled the world on a research ship from Scripps Institution of Oceanography, and now on my behalf he has camped out in winter, cooked in the snow, and washed bolts.
"We all have challenges. Some of us are in wheelchairs, others are single parents. But I have many blessings. I feel blessed to have this place to live; to have a kind, caring boyfriend who's knowledgeable about fixing propane appliances and willing to deal with MCS construction; to have a gorgeous view of God's creation; to have helpful friends and neighbors; to have time to converse with God; and more."
Prayers are always appreciated.
Thanks to Loe's boyfriend, David Newton, and her neighbors for typing and handling electronic communication to make this article possible, and to Susan Molloy for reviewing drafts of the article.
Thanks to Steen Hviid and Loe for photography. The first two photos are of Loe outside and inside her cabin (by Steen). The second two are of Loe's canopy in snow (by Loe) and David inside the cabin (by Steen).
Please do not republish this article without the permission of AEHB and Loe Griffith.
Copyright © 2009 Griffith & Hemenway. All Rights Reserved.
originally published in the Arizona Environmental Heath Bulleting (AEHB) Issue 25
posted by earthwalker on April 27, 2010 | tags: chemical sensitivity, EHS, EI, electrical sensitivity, environmental illness, ES, MCS, MCSsafehomes.com, non-toxic construction, safer home, safer housing, safer housing search
Leave a reply