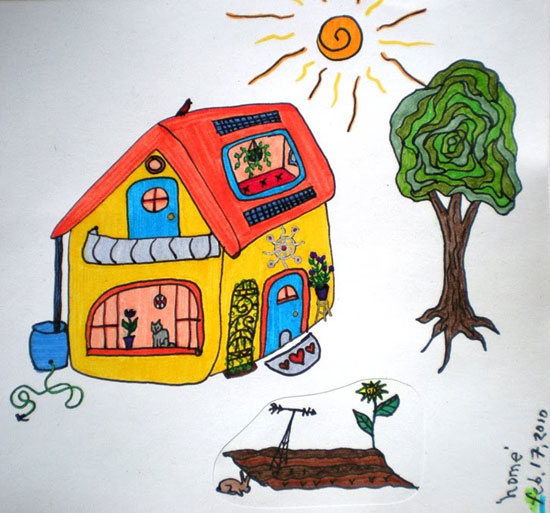 Here's the coloured-in version of the home drawing from the last post.
Materials used: permanent ink, fountain pen, ecojot sketchbook (paper whitened without chlorine), Prang markers

With chemical sensitivities, "home" can take on different meanings than for other people. For many of us, it can be a challenge to make our home into a safe haven – the one place where we do not have negative reactions. The challenges of making a safe home can be so frustrating and tiring that they leave us with a negative association with the idea of "home." We can experience some amount of healing by recreating our vision of home and reestablishing a connection with "home" being a positive thing in our lives. Some of the many ways we can do this are through words or images, song or movement, or by doing things around our home to make it feel more special – even a tiny, handmade decoration can be a great first step on that journey. I am happy to be healing enough to use art materials that were impossible until recently but no fancy materials are needed.
Some words expressing what a positive "home" means to me:
safe mooring • restful • retreat • refuge • relaxed • peaceful • protecting • private •
cherished • blessed • warm • snug • cradle • at ease • healthy environment •
familiar welcoming domain • haven • holy • comfortable • cozy • lived-in
What does "home" mean to you?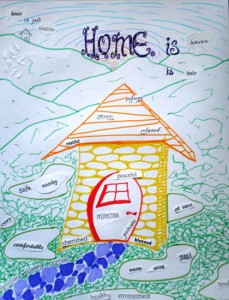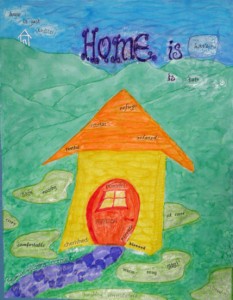 Click on images to enlarge.
Materials used: Prang fine line markers and semi-moist watercolor paints, gluestick, chlorine-free paper by Cascades.