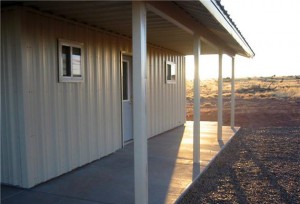 Joy Beach Thomas builds environmentally safer homes made from less toxic building materials, and then sells them to people with environmental sensitivities who want the details and care of a custom-built house, without the hassles of the construction process.
So far she has only built three such "spec" homes – houses built on speculation without a specific buyer – and each one has sold before construction was completed. Not only is the demand high and constant – even in a less-than-thriving housing market – but the returns are good as well; enough to keep Joy in business and local builders happy.
Joy is not environmentally sensitive herself, but is a compassionate businesswoman who recognizes the assets she can bring to the table to help those less fortunate, while still meeting her own financial goals. Learn more about this entrepreneurial woman who acts from the heart in our interview with her on reshelter.org: Environmentally Safer Spec Houses: A Healthy Investment. It's our hope she will inspire others to follow suit around the country, to build much needed safer housing for those with environmental sensitivities who are unable to live in conventional housing. Go Joy!!