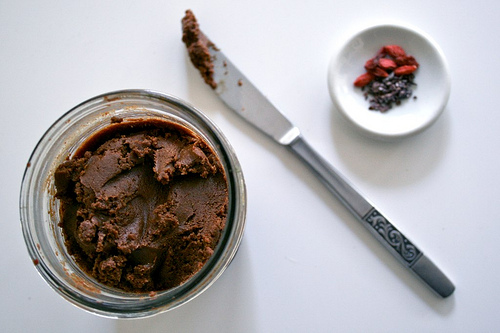 photo provided courtesy of affairsofliving.com

Really. This tastes like pure sin!
I am trying to come up with tasty grain-free, nut-free sweet treats, and this definitely fits the bill. Wow.
Eat it on crackers. Drizzle it over pancakes or waffles. Spread it on carrots (surprisingly good, in my opinion). Swirl it into oatmeal or other breakfast porridge. Eat it out of the jar with a spoon. Make truffles. Use it on cupcakes. Do anything with it!

ingredients
This recipe is very flexible; add sweetener or not to fit your tastes. I added a tablespoon or so of carob powder for extra chocolatey goodness.
4 cups shredded, unsweetened coconut
1/2 cup cacao nibs
1/2 cup goji berries
2 Tbsp melted coconut oil
pinch sea salt
optional: stevia liquid or powdered extract, to taste
optional: 1 Tbsp raw carob powder (or toasted, if you don't care about being raw)

directions
Place coconut, cacao nibs, and goji berries in a food processor. Pulse a few times, then process on high until you have a fine powder, about 3-4 minutes. You may have to shut it off and scrape down your sides periodically.
Once everything is finely ground, add melted coconut oil while the processor is running on high. Things should turn smooth and start flowing freely; if not, try adding more coconut butter. Let it run for about 8-10 minutes or until it reaches your desired smoothness. It won't be totally smooth, there will still be some little nubby pieces remaining, but will be mostly smooth.
Transfer to a jar and let cool before screwing on the lid. It will become firm once it cools. It can be stored at room temperature.
makes 2 cups

recipe courtesy affairsofliving.com