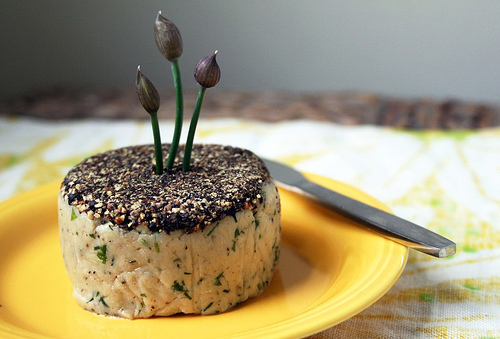 photo provided courtesy of affairsofliving.com

Cashew cheese is a pretty standard dairy-free thing to make, so I like to dress it up a bit by making cute little wheels crusted with coarsely ground peppercorns. This recipe isn't anything groundbreaking, but it is a handy – and most importantly, delicious – thing to have in your repertoire. Back in the day, I was a sucker for those lovely herb or peppercorn-crusted logs of fresh chevre. This reminds me a bit of that, but without that tricky lactose. Cashew cheese really couldn't be easier to make and it takes well to adaptations, so if you don't like my choice of seasonings, feel free to mix it up with your own! If I could, I would add sun-dried tomatoes.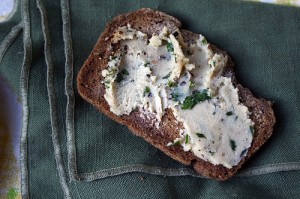 When made into these lovely little wheels, cashew cheese is a wonderfully fancy-looking addition to the snack table at a party, a special treat for picnics, or added to a tapas plate with some olives and dried figs. If you don't want to make it into wheels, feel free to use the cheese as is. Either way, it is delicious and "cheese"like and very satisfying, and would be perfect for the Mother's Day brunch table! Use it on crackers or fresh vegetables – it is great with thinly sliced radish. Spread it on bread, or use it on pizza. Do anything with it! I spread some on a slice of my Pumpkinseed Teff Sandwich Bread, and also crumbled some up and threw it in to my first attempt at a savory filled braid bread.
ingredients
If you don't tolerate pepper, feel free to garnish with minced herbs instead. It will still be delicious and beautiful! See note at end of recipe.
1 1/2 cups raw cashews
1/4 tsp garlic powder
1/4 tsp vitamin C crystals (or 2-3 tsp lemon juice if you do citrus)
1/4 tsp sea salt
1/8 tsp freshly ground black peppercorns
optional: 1 tsp chickpea miso (adds a nice yeastiness that is somewhat cheese-like)
water, as needed
2 Tbsp minced fresh herbs (I used chives, dill, and parsley)
2 tsp coarsely ground fresh black peppercorns
fresh chive flowers

directions
Place cashews in 4 cups of water and let soak for 4 hours. Drain and rinse well. Place in a food processor fitted with the "S" blade or a high powered blender (like a Vitamix). Process until coarsely ground, then scrape sides and garlic powder, vitamin C crystals, salt, 1/4 tsp pepper, and miso, and continue to process until smooth, adding water by the 1/2 teaspoon as necessary for it to come together. Once smooth, add fresh herbs and additional salt/pepper to taste, and pulse a few times to incorporate.
Use the cheese as is as a tasty spread, or to make lovely little wheels continue to the next step!
Line a 1/2 or 1/3 cup measuring cup with plastic wrap, smoothing the bottom as much as possible, and leaving at least 2 inches of plastic wrap around the edges. If you use a 1/2 cup measure, you will end up with 2 wheels and some leftover cheese. If you use a 1/3 cup measure, you can get 4 slightly smaller wheels. You could also form one big ball (or a bunch of smaller ones) and just roll it in peppercorns. Whatever, the choice is up to you. :)
Once lined, sprinkle in black pepper to fully coat bottom of cup, then pack cashew "cheese" firmly into the cup. Lift gently on edges of plastic wrap and pull out wheel, wrap well, and refrigerate until ready to serve, or at least 1 hour. It will become firmer as it cools. When ready to serve, gently peel off plastic wrap and place on a plate. If desired, garnish with chive flowers.
HERB GARNISH VARIATION: to make pepper-free, omit pepper from the recipe, and use 2-3 tsp of finely minced fresh herbs in the plastic lined measuring cups. Your cheese wheel will have a lovely green top!
ROASTED GARLIC VARIATION: omit garlic powder and add 3-4 roasted garlic cloves while processing. So tasty!
makes 2-3 cheese wheels, or roughly 1 1/2 cups cheese

recipe courtesy affairsofliving.com