posted in <<CFS / FMS Solutions > THRIVE! EXPERTS
CFS/FMS Solutions
Energy Revitalization contraindicated with antidepressants?
with Jacob Teitelbaum, M.D.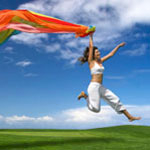 Dear Dr. T,
If someone is using an anti-depressant medication like Celexa, Prozac, etc.. do you feel that taking the Energy Revitalization supplement can cause any harm? I see that there is L-tryptophan in this product and I have read that this may cause serotonin overload. Also, I was under the impression that the amino acids that are in the product are what occur naturally from the whey protein. Is that not the case and are you actually adding synthetic amino acids like you would take in a capsule? I work at Whole Foods Market and want to be sure that I am informing my customers correctly with their questions.

Dr. Teitelbaum's response:
The Energy Revitalization System vitamin powder is wonderful for those with depression. We purposely kept the trytophan amount low enough (115 mg–much lower than most of the other amino acids in the powder and the amount in a few ounces of turkey) so that it is quite safe to take with antidepressants.
Although 7,000 mg of the aminos come from whey, we add in more of some key ones to optimize the amount of each (e.g -serine, NAC). I held off adding additional tryptophan, in part because of the drug interaction/serotonergic syndrome concern. Did the same with arginine as arginine feeds some viral infections.
Jacob Teitelbaum, M.D.
Dr. Teitelbaum's SHINE Approach to CFS/FM Treatment
In his 30 years of clinical experience, and in his landmark study on Effective Treatment of CFS/FM, Dr Teitelbaum has found that his SHINE approach to treating CFS/FM is successful in the vast majority of patients.
SHINE represents four areas of health issues that need to be addressed when creating a treatment program. These health issues and their roles in treating CFS/FM are as follows:
S = SLEEP:
Get adequate sleep, preferably eight to nine hours a night. Sleep replenishes the body's energy and heals its muscles. Inadequate sleep will leave you exhausted and in pain.
H = HORMONES:
Get tested for hormone deficiency and treated if needed. Hormone deficiencies can contribute to fibromyalgia and chronic fatigue syndrome.
I = INFECTIONS:
Get treatment when symptoms of infections occur. The lack of restorative sleep in CFS/FM leads to dysfunctional immune systems. Underlying viral, bacterial, bowel, sinus and yeast infections are common and can be a contributing cause or result of CFS/FM.
N = NUTRITIONAL SUPPLEMENTS:
Optimal nutritional supplementation is essential. Many nutrients can be depleted as a result of CFS/FM. B-12, magnesium, Acetyl L Carnitine and glutathione, as well as your basic A, B, C and D vitamins need to be supplemented at a level that your average over the counter multivitamin cannot provide.
E = EXERCISE:
Exercise as able. After 10 weeks on the 4 steps above, you will be able to slowly increase your exercise—without being wiped out the next day!
ask Dr. T a question
click here to read more about SHINE
find a SHINE support group near you
DR. T'S LIBRARY
magazine and newspaper appearances
television and radio appearances
publications
recent press releases
Leave a reply