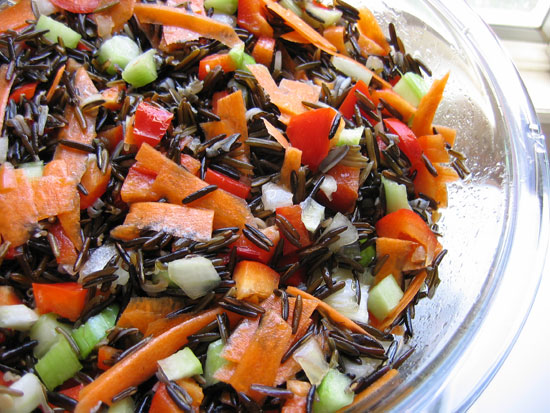 The health food store where I used to live in Long Beach, NY had a kick-ass prepared foods section that made a variation of this and I fell in love with it. I'm not sure if it is technically 100% raw or sprouted since wild rice is usually processed before being sold in the stores. But all the other ingredients are raw and full of delicious life energy. Soak it up!!
Here are some sources for organic wild rice. I have not tried them all – feel free to leave comments below if you have and would like to share your experience, or if you have another brand to recommend.
Mooselake Wild Rice 100% naturally grown lake and river wild rice from Minnesota and Canada
Lundberg certified organic wild rice
Real Wild Rice wild-crafted and hand parched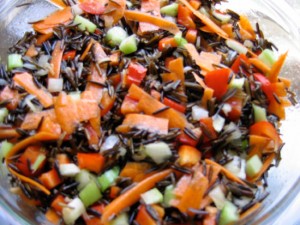 ingredients
1 cup wild rice
1 organic carrot, shavings
1 organic red, yellow or orange Bell pepper cut into small strips or diced
1-2 stalks organic celery, diced
2-3 organic green onions (scallions) or handful chopped onion (to taste), diced
1 clove organic garlic, diced or minced
juice of 1 organic lemon
organic olive oil to taste
organic chile pepper to taste

directions
Sprout wild rice by placing in a glass jar with filtered water to cover, place lid on and let sit for 2-4 days. Change water 2x a day to prevent fermentation. Wild rice will crack open when ready and be soft but crunchy / chewy. If rice doesn't seem to crack open much you can still eat it if it tastes chewable.
Rinse and dry rice when done sprouting.
Combine all ingredients and add to wild rice; mix thoroughly and eat! Refrigerate after combining ingredients.
Peace and greens, Julie