One of the creative things that I love most is making things for other people. Whether it be a card, food, a piece of art, or a decorative craft, I find that the entire time I am creating, I am filled with good energy as I am aware that my gift will brighten someone's day.
A handmade gift does not have to be fancy – something simple can easily bring a smile to someone's face. This "Inspiration Cloud" doodle is for a friend of mine who loves words. I hope that she will fill it with a word or phrase that is inspiring or comforting to her!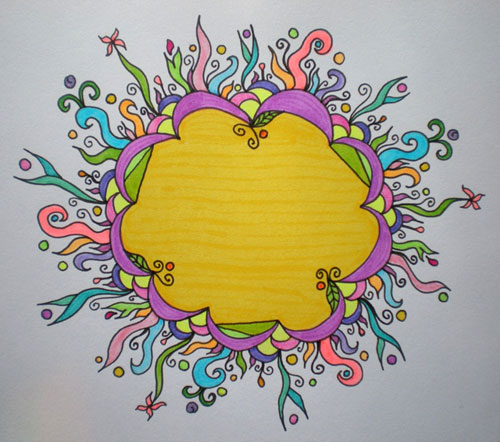 In this consumer age, with busy schedules, many people buy gifts and cards rather than make them. It can be an added challenge to think of a gift that a loved one would like, that you could make on your own. But what a rewarding challenge it can be!
A handmade gift lets someone know that they are valued, that they mean enough to us that we spent time creating a gift. Gifts can be touching, meaningful or fun. I made this off-the-wall card for my younger brother who turned 26 this year: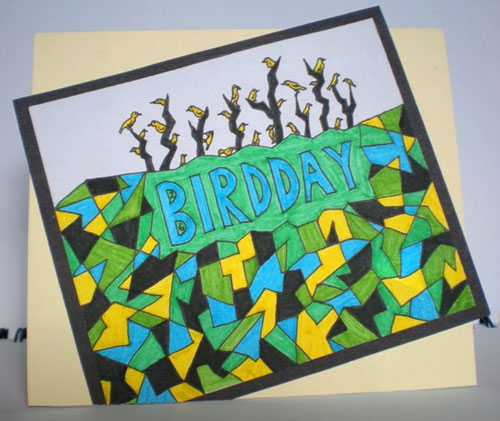 card front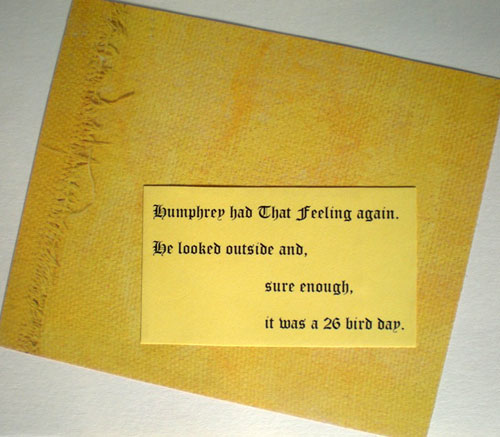 card inside

The text reads:
"Humphrey had That Feeling again.
He looked outside and,
sure enough,
it was a 26 bird day."
(a play on 26th birthday)
My brother's name is not actually Humphrey, but I've always found it a fun-sounding name :-)
Here are a few ideas for simple handmade or hand altered gift ideas for friends and loved ones:
• Buy an inexpensive pad of paper – add doodles, embellishment or inspiring words or quotes written on random pages.
• Wash and dry a glass jar after you are done with it (jam, baby food, mason, nut butter, etc.) – collage the outside of it, or add stickers or simply tie a ribbon or wool around the top and add a handmade gift tag. Fill it with your own mix of bulk foods they enjoy.
• Make a collage bookmark by gluing cut out images onto a heavier piece of paper – you can use card stock weight paper as the base or a heavy scrap paper and cover both sides. if possible, choose images you think would have meaning to them.
• Braid embroidery floss in colours you think they would like – if you make it long, they can use it as a bookmark or cut it shorter to be a bracelet or anklet.
Are there any gifts you have loved making for someone? Please share in the comments section below!