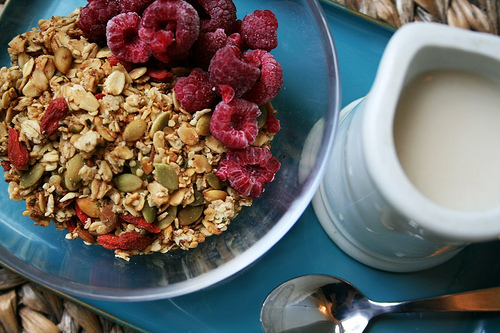 photo provided courtesy of affairsofliving.com

What could possibly be better for a leisurely weekend breakfast than a bowl of homemade granola soaked in homemade cultured oat milk, topped off with juicy fresh raspberries? For this granola, I used oats and brown rice flakes, pumpkin and hemp seeds, some shredded coconut, and spices. I sweetened it with apple juice and stevia. One cup of apple juice has about 35 grams of sugar, which is a lot if one were to drink it plain. But spread out over an entire BATCH of granola, it only contributes about 2 grams of sugar per 1/2 cup serving. Not bad, huh?
It is full of complex carbs, healthy fats, lots of fiber, and packs in over 10 grams of protein per serving. It is also a great source of omega fatty acids, phosphorus, thiamin, copper, magnesium, and manganese, and potassium (270 mg per serving). Serve with non-dairy or dairy milk or yogurt, over shredded jicama (surprisingly tasty!) or fresh fruit, or as a snack all on its own. Where else can it come in handy?
• Take on car, train, or plane trips for healthy travel snacks on the go.
• Pack in your child's school lunches for a totally nut-free, classroom friendly snack.
• Keep a small snack-sized baggie or jar in your purse or backpack to combat nasty low blood sugar moments while you're out and about.
• Keep a jar at work to snack on during those crazy meeting-filled days!
• Great for busy students – you could easily make large batches on the cheap!
• Keep some in the car to have in case of emergency breakdowns.
• Perfect energizing snack before or after the gym.
As for the Cultured Homemade Oat Milk? I'll say this: once I started making my own milks, I stopped buying pre-made non-dairy milks almost entirely. Homemade milks taste better and are totally customizable to your tastes and dietary needs. Because they are not heavily processed, they retain all the great nutrition present in the whole food and can be prepared properly for the best nutritional benefit. They are also more environmentally friendly. I like oat milk because it is creamy and rich; there is something magical about oats when it is made into milk, and it has a really wonderful consistency that is perfect for using in hot beverages, smoothies, baking, and of course, over granola.
For beneficial bacteria and increased nutrient bioavailability, I like to culture my homemade oat milk with a little miso (I'd love to try making my own miso, but I'm not quite there yet). :) If you're not interested in culturing your milk, you certainly don't have to, it will still be delicious and nourishing if left uncultured. But if you're willing to give it a shot, I think it is worth it! We could all use a little beneficial bacteria in our guts, let's be honest.
My favorite way to eat this granola is to soak it overnight in the fridge (or for at least an hour) in the oat milk before eating it. I like it because the granola becomes like a thick and creamy soft porridge, similar to the traditional way that the Swiss soak muesli overnight in milk. If you soak fresh berries with it, everything becomes sweet and infused with berry goodness. Yummy. In fact, I often mix everything together in a jar the night before or in the morning before work, and then throw it in my purse and take on the bus with me. By the time I get to my desk, it is all mixed up and soft and delicious. Breakfast on the go never had it so good! But hey, do what you want, you'll find your own way. How do you like to eat granola?

ingredients
Serve with non-dairy or dairy milk or yogurt, over shredded jicama (surprisingly tasty!) or fruit, or as a snack all on its own. Crunchy, full of flavor, and loaded with nutrients, this granola is sure to become a staple in your pantry.
4 cups gluten free oats
1 cup brown rice flakes (or 1 more cup oats)
1 cup pumpkin seeds (or other nut/seed)
1 cup hemp seeds (or other nut/seed)
1/2 cup shredded coconut
2 Tbsp ground chia seeds or flax seeds
1 1/4 cup apple juice
2 heaping tablespoons melted coconut oil
1 tsp gluten-free vanilla extract (Simply Organic is GF) or vanilla flavoring
1 tsp cardamom
1 tsp cinnamon, 1/2 tsp allspice, or 1-2 Tbsp mesquite flour
1/4 tsp salt
1/4-1/2 tsp stevia liquid, to taste (I used SweetLeaf's English Toffee flavor, yum!)
1/2-1 cup dried fruit (optional)
any other junk you want to throw in – other seeds, nuts, spices, fruit, cacao nibs, chocolate chunks, etc etc etc…

directions
Preheat oven to 325º F and lightly oil two large cookie sheets (preferably ones with sides).
Mix together oats, rice flakes, seeds, coconut in a large bowl.
Stir together apple juice and chia seed, and let sit 5 minutes. Then stir in melted coconut oil, chia, vanilla, spices, salt and whisk until smooth and creamy. Pour over oat mixture and mix until evenly moistened.
Spread onto the prepared cookie sheets. Bake at 325 degrees for 50-60 minutes, stirring every 15 minutes.
Bake until completely dry, crisp, and golden brown. Remove from oven and let cool completely.
Stir in dried fruit (if using), and store in a well-sealed jar or canister. Will stay fresh about 4-6 weeks.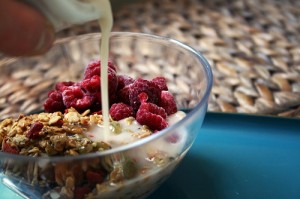 Homemade Cultured Oat Milk ingredients
Soaking the oats before cooking and then culturing the finished milk yields an easily digested, nourishing milk product that is far superior to store-bought milks. During the culturing process, the beneficial lactobacilli in the miso eat away at the carbohydrates, turning them into more easily digested sugars. You will notice that the texture may thin out a bit after culturing; this is totally normal. The culturing process also yields a slightly sweet flavor that is delicious. If you do not want to culture the milk, skip that step and refrigerate milk immediately after blending; it will still be delicious. If you desire vitamin content, add liquid vitamin D to cooled milk for extra vitamins. Be sure to check the IU quantity of your vitamin D drops to determine the proper amount to add to your milk, depending on your nutritional needs. Carlson's makes great liquid vitamin D.
1 cup oats
4-6 cups water (use 4 for thick, cream-like milk, use 6 for a thinner milk)
pinch sea salt
1 Tbsp South River Chickpea or Azuki Bean Miso (or soy miso, if you are soy tolerant)
optional: stevia or other natural sweetener to taste, or 1-3 pitted, soaked dates
optional: liquid vitamin D

directions
Soak oats in water for 4-6 hours (this step can be skipped, if desired).
Place oats and water in a medium saucepan. Bring to a boil, then cook over low heat for 10-15 minutes, stirring often, until oats are totally soft and mixture has thickened.
Place in blender and blend until totally smooth (add soaked dates to blender now, if using).
Transfer to a large bowl and let cool to blood temperature.
Remove a small amount of milk and dissolve miso paste in it, then transfer miso-milk mixture back into bowl and stir to mix.
Let sit 8-12 hours, then pour through a fine strainer into jars. Stir in desired quantity of liquid vitamin D, if using. Cover and store in the refrigerator.

Variation: Real Vanilla Oat Milk
Place 1/2 vanilla bean in the pot with oats and cook as directed. Remove from pot before blending, or for more vanilla flavor, blend with oats. Culture milk as directed, or not, depending on your preference. If desired, sweeten with stevia or other natural sweetener, or blend with pitted medjool dates.
makes approximately 8 cups granola, 4-6 cups oat milk

recipe courtesy affairsofliving.com