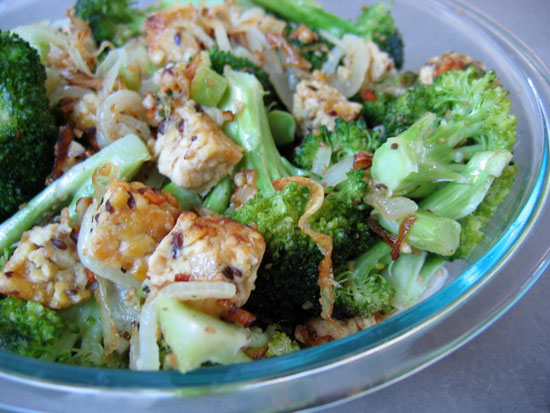 There has been a lot of controversy over the health benefits of soy in recent years but even its detractors seem to say that eating moderate amounts of fermented soy products – like miso, tempeh, and natto – is okay. I love tempeh, especially when browned in a bed of caramelized onions and garlic and paired with a vegetable like broccoli, winter squash or sweet potato. When I need a bulkier meal, I eat this with brown rice pasta. You can use tempeh in wraps, salads – anywhere you like. It's got a deep nutty flavor that complements the light freshness of vegetables well.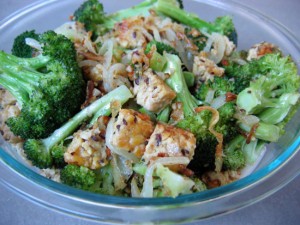 ingredients ~ all organic
1 package tempeh, cubed
1 onion, sliced or chopped
1-2 cloves garlic, diced or minced
broccoli, cut into bite sizes
olive oil for cooking
optional: seaweed, garlic or plain gomasio (sesame seeds, sea salt)

directions
Sauté chopped onion in olive oil until translucent or caramelized.
Add garlic and let cook for a minute or two to flavor the olive oil.
Add the tempeh and broccoli, sprinkle with gomasio to taste, and cover. Turn the tempeh so it browns on all sides and make sure the broccoli does not burn.
Cook for approximately ten minutes, or until broccoli is tender to a fork's touch but not overdone. Serve and enjoy.
Peace and greens, Julie