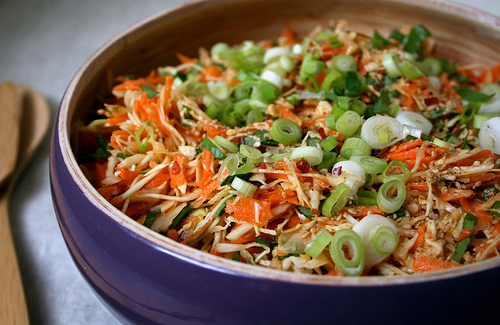 photo provided courtesy of affairsofliving.com

If you aren't familiar with sorrel, it is a perennial herb with a tart, sour, almost lemony flavor. The flavor is due to the high amount of oxalic acid present in the leaves. If you are particularly sensitive to oxalates, you may want to steer clear of sorrel. In large quantities, everyone should be careful – too much sorrel can be toxic! But a small amount here and there won't harm you. So, if you can handle oxalates, find sorrel immediately, because it is delicious. It is used all over the world in various dishes from soups to salads to meat dishes. It is delicious with butter over fish. Because it has a tart, sour, lemony flavor, I like adding it to slaws and salads for an acidic bite. This slaw is crunchy, spicy, sweet, and salty, just the way I like it. It's quick to prepare, and pretty too (especially served in my new purple lacquered bamboo bowl). I think you'll like it. Served with baked salmon, it was the perfect light dinner for a hot day.

ingredients
1/2 head cabbage, finely shredded
2 carrots, grated
2 scallions, finely sliced
6 sorrel leaves, sliced in a thin chiffonade
1 Tbsp toasted sesame seeds (if raw, use untoasted)
a couple pinches red pepper flakes
umeboshi plum vinegar
olive oil
sesame oil
optional: handful toasted cashews, chopped (if raw, use untoasted cashews)

directions
Prepare vegetables as directed and toss together in a bowl, reserving some of the scallion for garnish.
Drizzle a glug of olive oil, a little splash of sesame oil, about 1-2 tsp of umeboshi plum vinegar over the slaw and toss to coat.
Sprinkle with sesame seeds and chili flakes, and adjust quantity of oil/ume vinegar to taste, and toss it all together one more time.
Sprinkle with remaining scallions, a few more sesame seeds and chili flakes, and serve. Easy!
makes 4 side servings or 2-3 main course servings

recipe courtesy affairsofliving.com