posted in <<Elana's Gluten-Free Pantry > Featured > THRIVE! EXPERTS
Elana's Gluten-Free Pantry
Creamy cranberry dressing
another yummy gluten-free recipe from Elana's pantry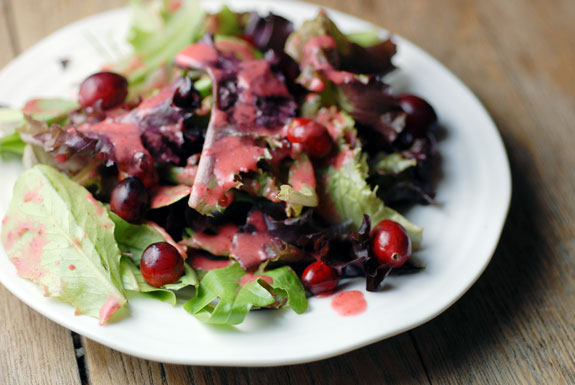 photo provided courtesy of elanaspantry.com

This super tart cranberry dressing is the perfect gluten free addition to any fall meal, and is ideal for Thanksgiving. Cranberries are a superfood, rich in antioxidants. I like to sprinkle fresh cranberries on my salad when I use this dressing. Because they are so mouth-puckering and tangy, I spare my husband and children, by using fruit sweetened, dried cranberries as a garnish on their salads, rather than the fresh ones.
I found this recipe in an old Sunset magazine and adapted it, replacing white sugar and some of the other ingredients with ones that I prefer. I hope you enjoy this gluten free salad dressing; it's autumn in a condiment.

ingredients
1 cup fresh cranberries
5 drops stevia
¼ cup orange juice, freshly squeezed
¼ cup lemon juice, freshly squeezed
1 tablespoon agave nectar
½ teaspoon thyme
½ teaspoon dijon mustard
¼ teaspoon celtic sea salt
½ cup olive oil

directions
In a Vitamix blend cranberries, stevia, orange juice, lemon juice, and agave until smooth.
Blend in the thyme, mustard and salt, then drizzle in olive oil while motor is still running.
Serve over mixed greens.

recipe courtesy elanaspantry.com
Leave a reply