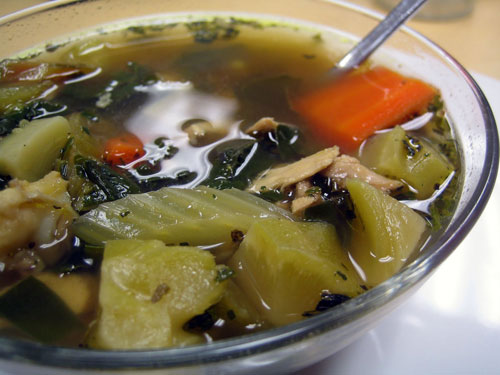 photo provided courtesy of affairsofliving.com

Here's a little recipe for some tasty, low-carb, anti-candida-diet (ACD)-friendly chicken soup I made last night. Full of chunky chicken, lots of green veggies, flavorful herbs, and one little carrot for spleen meridian-strengthening power, this soup feels satisfying, not restrictive. Freeze leftovers for easy meals later on. I started this chicken soup from scratch, with the whole darn bird, the best way to do it. It is easy to cook a whole chicken, and once you taste the stock, you won't go back. Besides being delicious, the natural gelatin in real bone broth and stocks is ultra-healing to our body's tissues, and can help repair and soothe the lining of the digestive tract. Between a couple batches of stock, and all the meat, one little chicken can yield many, many meals.
I like using a crock pot to cook my chickens to save time, but it also works well on the stovetop. I put my chicken in the crockpot last night at 6:30, ate dinner, ran to Whole Foods for a bunch of low-starch vegetables and more coconut oil, went to the gym, and got home at 9:30 to a cooked chicken and about 6 cups of fresh stock. I cut up the vegetables for the soup and sauteed them in the pot on the stove while I cleaned up the chicken and strained the broth, then finally assembled everything in the pot. By about 10:15, I had a pot of fresh soup cooling the fridge. I also had a second batch of stock going in the crock pot, and leftover chicken for meals later this week! See? Home-cooking doesn't have to take up all your time. The more you do it, the faster it gets.
If you don't want to start with the whole chicken and make your own stock, feel free to use store bought stock and skinless, boneless chicken breasts (or leftover pre-cooked chicken) for a super-fast and easy meal.

Chicken/Stock ingredients
1 whole chicken, free range, no antibiotics
6-8 c water
2 bay leaves
2-3 whole allspice berries or cloves
handful parsley and fresh thyme or other herbs
2 tsp marjoram or oregano
1 carrot, chopped
1 stalk celery, chopped
1 chunk onion
other vegetable trimmings/scraps

directions
Rinse off the chicken, and trim off any excess fat or waste. Stuff fresh herbs inside the chicken.
Place the chicken in large stockpot or crockpot with bay leaves, allspice, marjoram, carrot, celery, and onion.
Crock pot: cook on high for 3 hours or low for 6-8 hours. Stove top: bring to a boil and reduce to a simmer, and cook for about 1 hour.
Once chicken is done, remove it from the pot. Remove skin, setting aside for making another batch of stock later on. Remove meat from bones, setting bones aside with skin. Set aside 3 cups of meat for the soup, and save the rest for later in the refrigerator or freezer.
Strain broth through a fine colander into a large bowl, and use it for the soup!
If you want an extra batch of stock, place skin, bones, and the veggies/herbs back in the pot. Throw in some fresh carrot and vegetable trimmings from the soup veggies, more water, and more herbs. Cook on the stove top for an hour or two, or up to 24 hours on low in the crock pot. The longer it cooks, the richer it tastes! When it is done, strain through colander, and store in jars. Use within 5 days, or freeze for later.
3 c cooked chicken, diced or shredded
2 c broccoli florets and chopped stems
2 c celery, sliced
4 large leaves Swiss Chard, leaves chopped and ribs sliced (may sub kale or collards)
1 carrot, peeled and sliced
2 tsp dry marjoram or oregano
1 Tbsp dry basil
1-2 tsp thyme or savory
1/4 c parsley, minced
pinch allspice
8 c stock/broth and water
1-2 T olive oil
salt/Herbamare to taste
optional: 2-3 garlic cloves, crushed and sliced

directions
In a large stockpot, heat olive oil and saute garlic, celery, sliced chard ribs, carrot, and broccoli on low, covered, for about 5-8 minutes, until fragrant.
Add chard leaves, cooked chicken, and stock, and simmer until all the vegetables are almost tender. Add herbs and spices to taste, and let cook 5 more minutes to flavor through.
Serve!
serves 6

recipe courtesy affairsofliving.com