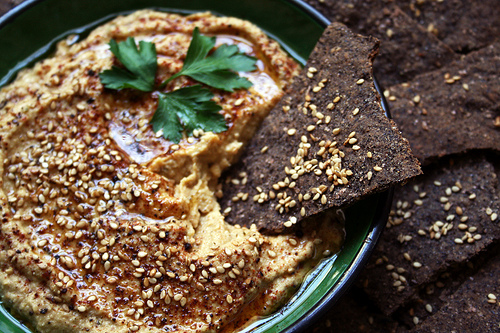 photo provided courtesy of affairsofliving.com

My recipe calendar, A Year to Eat Freely: 2011 Allergy-Friendly Recipe Calendar, is now for sale! Doesn't it look lovely? This 12-month recipe calendar features seventeen recipes free of all major allergens, with full color photos and lots of good instructions. Read more about it here, or just go over to my Etsy shop. I decided to share a lovely recipe from the calendar today, a wonderful Wholegrain Crackerbread with Sesame that is easy to prepare and delicious. It is featured in the calendar with Smoky Zucchini Dip, one of my favorite recipes and photos from the project.

ingredients
1 cup cooked wholegrain quinoa or buckwheat groats (from 1/2-cup dry grain)
1/2 cup buckwheat flour, plus more for dusting
1/2 tsp sea salt
2-3 Tbsp sesame seeds
2 Tbsp extra virgin olive oil, plus more for drizzling
1-2 Tbsp water

directions
Soak quinoa/buckwheat for 6-8 hours in 3 cups of water, then drain and rinse well.
Place in a small saucepan with 3/4-1 cup of water and bring to a boil, then cover and reduce to a simmer. Cook 10-15 minutes, until grains are tender and water is absorbed.
Let cool slightly, then transfer to a food processor and pulse a few times to break up. Add buckwheat flour and salt and process until coarse and grainy, adding 2 Tbsp of seeds at the end to incorporate. With processor running, slowly drizzle in olive oil. Then drizzle in water slowly just until a ball forms; dough will be soft.
Heat oven to 400 degrees Fahrenheit and line a large flat baking sheet (preferably one with sides) with parchment paper.
Spread dough out onto parchment-lined sheet and flatten into a 6″ round, then sprinkle generously with flour. Roll out with a rolling pin until no more than 1/8″ thick (thick dough makes very tough crackers), sprinkling with flour as necessary. Brush dough generously with olive oil then sprinkle with salt and remaining seeds, and press in lightly.
Bake 40 minutes, until bread is crisp and browned.
Remove from oven and cool; it will crisp as it cools. Break cooled crackers into pieces, and store in a well-sealed container.
makes (1) 14″ round

recipe courtesy affairsofliving.com