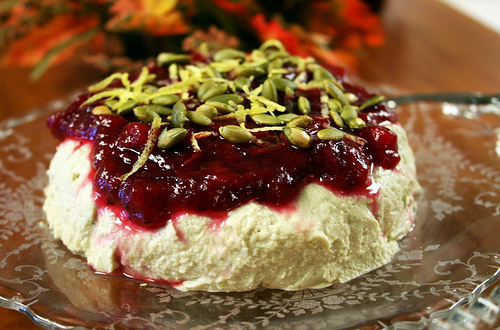 photo provided courtesy of affairsofliving.com

This dish appeared at my Thanksgiving family feast this year, and was a big hit. It satisfied two things that are an absolute must at any of my family's holiday get-togethers: cheese and cranberry sauce.
I'm from Wisconsin. Cheese makes an appearance at every family meal. And we're not talking fancy little wedges of imported stuff or raw milk cheese from small cheesemakers. No sir, we're talking classic Wisco favorites like multiple tubs Merkts cheese spread and slices of cheddar, colby, or pepper jack hacked from big blocks of the stuff. There is always cheese. And crackers. And summer sausage.
And as for the cranberry sauce? Well, each of my grandmothers make different yet equally delicious cranberry dishes that always seem to be there. Grandma Smith makes a raw cranberry relish that is to die for, a simple combination of raw cranberries, sugar, and orange juice. Grandma Christensen makes a cranberry mold that is spiked with Coca-Cola. And I, for some reason, always succumbed to my strange fascination with the canned jellied variety that lines the grocery store shelves every holiday season. I would insist on having a can of that on the table as well, and I would meticulously slice it following the can ridges. Thus, we would have three varieties of cranberry per meal. Crazy.
Nostalgic for cheese and cranberry sauce, I needed to come up with an adequate substitute that my mom and I could actually eat. My mom is now avoiding sugar, gluten, dairy, and a few other allergens as well. Go mom!
You could choose to serve these two together, as I did, or not, whatever your preference. I enjoyed the combination of the two; the sweet-tart sauce played well with the rich and creamy "cheese", and it looks beautiful. The cheese is soft, reminiscent of the texture of a fresh chevre, with lemon for tartness and miso for a bit of that yeasty "cheesy" quality. This stuff is perfect to spread on gluten-free crackers or celery sticks. The cranberry sauce is totally amazing, sweet and tart and completely guilt-free. You will have plenty of cranberry sauce leftover, certainly enough to serve over some turkey or on its own.
Both were bit hits with everyone at the Thanksgiving party, and my grandparents even asked for some of the leftovers. When it passes the grandparent test, it has to be good, right?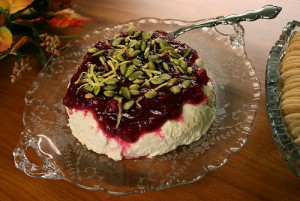 Cashew Pumpkin Seed Cheese ingredients
1 cup raw chopped cashews
1/2 cup raw pumpkin seeds
1/2 cup cooked white beans, drained and rinsed
juice of 1 medium lemon
1 Tbsp South River chickpea miso (soy free)
1 Tbsp water, if needed

directions
Soak the cashews and pumpkin seeds for 4-8 hours in 4 cups of water. Drain and rinse well.
Place in a food processor or a Vitamix (I used the latter) with remaining ingredients and process until totally smooth, scraping sides as needed. Mixture will be thick, so it may take a bit of patience to get everything nice and smooth. Add water as necessary, only adding enough so mixture can blend – too much will make your cheese runny.
Line a bowl with plastic wrap. Scoop cheese into lined bowl, cover bowl with remaining wrap on edges, and chill for 2-4 hours. Cheese will still be soft, but should maintain its form.
When ready to serve, peel back wrap on top, and flip out onto a plate. Unpeel plastic wrap, smooth as necessary, and serve. If desired, cover with Apple-Cranberry Sauce (recipe below), lemon zest, and a sprinkle of chopped cashew nuts or pumpkin seed.
HINT: for variations, try adding fresh herbs, sauteed garlic, caramelized onion, or sundried tomatoes. You could also sprinkle chopped parsley, nuts, seeds, or spices in the lined bowl before spooning in the cheese mixture. Make it your own!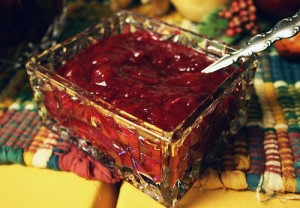 Apple-Cranberry Sauce ingredients
Sweet, tart, and brightly flavored, this sauce is delicious cold or warm, and is perfect over the "cheese", stuffing, turkey, or spread on gluten-free muffins. Due to the natural pectin in the apples, the sauce thickens considerably once chilled, and becomes almost as thick as canned whole berry cranberry sauce! This sauce has a special twist: rooibos tea! It adds a lovely subtle flavor that blends well with the sweet apples and tart berries.
2 medium tart organic apples (I used Honeycrisp)
2 cups fresh or frozen whole cranberries
2 Tbsp maple syrup (or agave nectar, brown rice syrup, or other liquid sweetener) – if on a strict anti-candida diet, omit and use more stevia liquid
6 drops plain stevia liquid, to taste (use more if omitting maple syrup)
1/2 cup double-strong brewed rooibos tea

directions
Heat oven to 350 degrees Fahrenheit.
Core apples and chop finely. Place in a small oven-proof dish with cranberries and tea, cover, and bake until totally soft, about 50 minutes. Remove from oven.
Lightly blend with an immersion blender until partially pureed, leaving some chunks for texture.
Add maple syrup and stevia to taste.
Serve warm or chilled. Sauce thickens considerably once chilled.
makes about 1 1/2 cup "cheese", 2 cups cranberry sauce

recipe courtesy affairsofliving.com