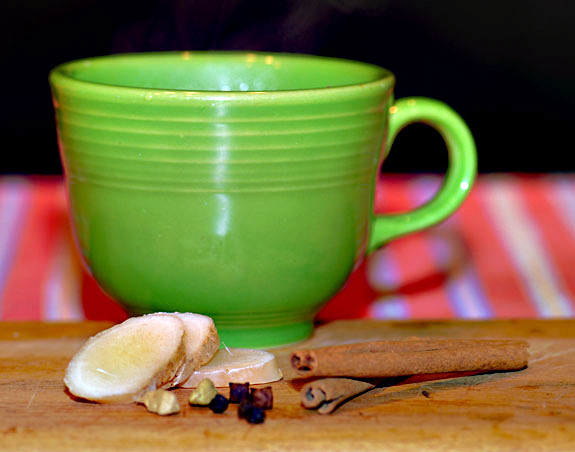 photo provided courtesy of elanaspantry.com

This chilly weather calls for one of my favorite beverages: homemade chai. With just a few basic ingredients, this recipe is easy, delicious and inexpensive.

ingredients
6 cups water
2 cinnamon sticks
4 cloves
1 inch ginger, sliced
8 pods cardamom
6 black peppercorns
1 bag peppermint tea (or 1 tablespoon loose peppermint tea)

directions
Combine all ingredients in a pot and place on stove over medium heat
Bring to a boil, then turn down and simmer for 15 minutes
Strain into mugs
Serve piping hot with agave and almond milk

This recipe for homemade chai is simple and, on a cloudy day, very satisfying! Another vegan, dairy-free, lactose-free, gluten-free beverage for a chilly day. Enjoy!
serves 4

recipe courtesy elanaspantry.com