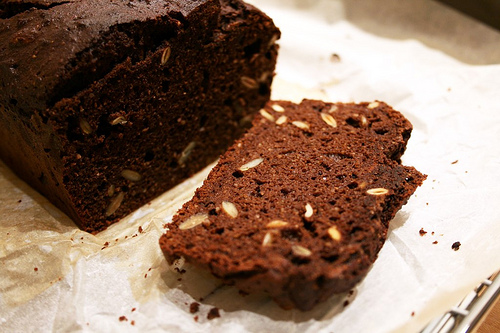 photo provided courtesy of affairsofliving.com

I've been experimenting with eating grain-free the last few weeks. By grain-free I obviously mean gluten-free, but also free of gluten-free grains like sorghum and oats and the grain-like seeds quinoa, millet, buckwheat, teff, and amaranth.
Why am I doing this, you ask?
Lately I have noticed that when I eat grains, I feel quite imbalanced. Despite the fact that energetically grains are very grounding and stabilizing, somehow that gets screwed up for me. My blood sugar goes wacky. My cravings and appetite become insatiable. My emotions seem to spike more. Once I start, I can't stop, and find myself eating half a bag of rice cakes or 3 muffins in a row or massive bowls of rice. AH! I have carb problems! I was also feeling a massive flare up in my Lyme symptoms, was suffering crazy sinus congestion (one of my main allergy symptoms), and felt very sluggish digestively. I knew I needed to make a change and focus on a diet high in protein and healthy fats and low in carbs.
So, I went grain free. Conveniently, I have recently learned that I tolerate small amounts of duck egg. So, I decided to try my hand at a bit of high protein baking with coconut flour and duck eggs. Victory! After making a great batch of plain bread, I made a beautiful loaf of chocolate bread that turned out very well. In fact, I loved it more than pretty much any loaf of grain-containing bread I've ever made, aside from this one (scroll down to Yeast-Free Pumpkinseed Teff Bread). I was amazed! The flavor and texture was so fantastic and rich, and it looked beautiful. And it sliced. Like REAL bread. Wow.
The secret is in grinding up toasted pumpkin seeds and using them in combination with cocoa powder and coconut flour to form the base of the bread. The duck eggs bind, so you needn't add xanthan or guar gums. If you tolerate chicken eggs, go ahead and use those instead. Just keep in mind that duck eggs are bigger than chicken eggs, so you need more chicken eggs in order to make the recipe (see below for details). Add a little olive oil and cinnamon, a handful of whole pumpkin seeds, and some high quality salt, and you have a killer combination. It is chocolatey, slightly sweet, and decadent. And it stays moist for days, even when only wrapped in parchment and stored on the counter.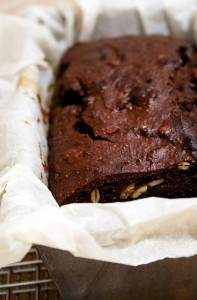 ingredients
This high-protein, high-fiber, low-card bread is lightly sweet, rich, and moist, dotted with crunchy pumpkinseeds. It is totally grain-free and uses a combination of low-glycemic evaporated palm sugar and stevia to sweeten. Serve warm or cooled for breakfasts, snacks, or with coffee or tea. Delicious drizzled with a little olive oil, or eaten with sugar-free raspberry jam!
I made the recipe with duck eggs. I haven't tried this recipe with chicken eggs, but included rough conversions below. 1 duck egg equals roughly 1 1/2 chicken eggs, so 5 duck eggs equals roughly 8 large chicken eggs. The batter should be quite thick, but follow your intuition – if you are using chicken eggs and it seems too thick, add another well beaten egg.
1 cup raw pumpkinseeds/pepitas
1/2 cup coconut flour
1/2 cup cocoa powder (or carob flour if you don't tolerate chocolate)
1/2 cup palm sugar (or date, maple, or coconut sugar)
1 1/2 tsp corn-free baking powder or regular baking powder
1 tsp cinnamon
1/2 tsp pure stevia extract powder (see additional stevia conversions here)
3/4 tsp sea salt
1/2 cup extra virgin olive oil
5 duck eggs or 8 large chicken eggs (1 duck egg = roughly 1 1/2 chicken eggs)

directions
Heat a large saute pan over medium heat and add pumpkin seeds. Toast until golden brown, fragrant, and just starting to pop, about 5 minutes. Stir often to prevent burning. Remove from heat and let cool.
Preheat oven to 350º F and line a bread tin with parchment.
Measure a heaping 1/2 cup of toasted pumpkin seeds and place in a food processor or coffee grinder, and grind until fine and powdery, like flour. Place ground seeds in a medium bowl and add coconut flour, cocoa powder, baking powder, cinnamon, palm sugar, stevia powder, and salt. Whisk until totally mixed and light. Set aside.
In a large bowl, whisk together eggs until smoothly scrambled, then whisk in olive oil until evenly mixed. Then add flour mixture and stir until just moistened, then stir in remaining toasted pumpkin seeds, reserving a few for sprinkling on the top of the loaf, if desired. Batter will be very thick.
Spread evenly and firmly into parchment-lined bread pan, smoothing top with a rubber spatula, and sprinkle a few remaining seeds on top if desired. Place pan in pre-heated oven and bake for 40 minutes, or until a knife or toothpick comes out clean. Let cool for 5 minutes, then pull up on the edges of parchment to release bread from the pan and let finish cooling on a wire rack. when ready to serve, peel away parchment and slice.
Serve bread warm or cooled. Flavor improves as it sits. Store at room temperature for up to five days wrapped well in parchment.
Serving suggestions:
• Serve warm or cooled, toasted or untoasted, for breakfasts, brunch, tea or coffee breaks, or afterschool snacks.
• It is delicious drizzled with good olive oil and a pinch of smoked or regular sea salt.
• Spread with ghee, coconut oil, or coconut butter.
• If you tolerate vinegar, I bet it would be very good dipped in a combination of high-quality balsamic vinegar and olive oil – balsamic and chocolate were made for each other.
• Smear with your favorite nut or seed butter or some sugar-free jam (try raspberry!).
• Use to make chocolate French toast :)
• Make a decadent open-face sandwich with a slice of bread, nut/seed butter, a few allergy-friendly chocolate chips, and sliced bananas or strawberries. I haven't tried this and can't eat it myself, but I guarantee you it will be delicious.
Sweetener substitutions:
• Substitute the palm sugar 1:1 with date sugar, maple sugar, coconut sugar, cane sugar, or another dry sweetener as desired.
• If you want to sweeten solely with stevia and make it sugar-free, try omitting the palm sugar and using 3/4-1 tsp TOTAL of stevia extract powder instead, tasting as you add it to judge sweetness level. If you are using other forms of stevia, use this chart to determine appropriate quantity of stevia.
• Using liquid sweeteners like yacon syrup, maple syrup, or agave nectar may effect the moisture level, so use at your own risk.
makes (1) 9″x5″ loaf

recipe courtesy affairsofliving.com