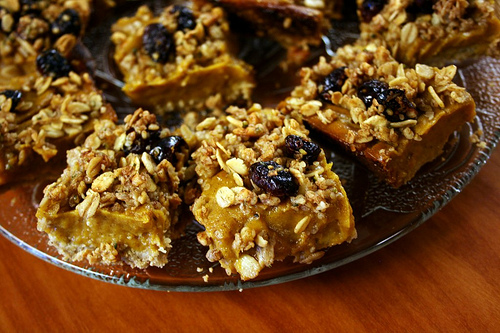 photo provided courtesy of affairsofliving.com

Crumble ingredients
• 1/4 cup cashews
• 1/2 cup oats
• 1/4 cup dried cranberries
• pinch salt
optional: 2 Tbsp hemp seeds
optional: 1-2 Tbsp maple syrup, agave nectar, or other liquid sweetener
Crust ingredients
• 1 1/2 cups gluten-free rolled oats
• 1 1/2 cup cashews
• 2 Tbsp arrowroot starch/flour
• 6 Tbsp cold coconut oil or butter
• pinch sea salt
• 1/4 tsp cinnamon
• 1 Tbsp ice cold water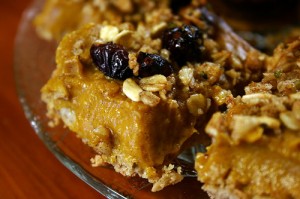 Filling ingredients
• 3 1/2 – 4 cups sweet potato puree (from 4 large, baked sweet potatoes, about 3 1/2 – 4 pounds)
• 1 cup cooked white beans (yes, beans – trust me)
• 8 pitted and chopped medjool dates, soaked in 1/2 cup warm water
• 1 3/4 cup non-dairy milk (I used unsweetened hemp milk this time, but have used coconut, rice, and cashew also. Any non-dairy milk should work)
• stevia liquid
• 2 Tbsp arrowroot starch
• 1 tsp gluten-free vanilla extract or flavoring
• 1 tsp sea salt
• 2 tsp cinnamon
• 1 tsp ginger
• 1/2 tsp nutmeg
• 1/4 tsp allspice
Bake the potatoes: Prick each potato a few times and place on a baking sheet. Bake for about 1 hour and 15 minutes at 350º F, until soft. Remove from oven and let cool while making crust. Leave oven on.
HINT: soak dates now if you haven't already!
Prepare the crumble and the crust: Lightly toast 3/4 cashews in a heavy-bottomed sauté pan, and remove from heat. Then toast 2 cups of oats, and remove from Heat. Set aside until cooled slightly.
Make the crumble first by placing 1/4 cup oats and 1/4 cup cashews and in the food processor/Vitamix and lightly chop, leaving coarse "crumbly" chunks. Mix in a bowl with remaining 1/4 oats and other crumble ingredients, and set aside.
To make the crust, place remaining cashews and oats in food processor/Vitamix and grind until fine, like flour. It's okay if there are still a few chunks. Transfer to a bowl and add remaining dry crust ingredients. Then cut in cold oil, until you have a course, dry, crumbly dough. Add water and mix until just sticky. Pat evenly into the bottom of a lightly oiled 9″x13″ pan. Rinse out the food processor/vitamix.
Make the filling: Peel the cooled potatoes and place in the food processor/vitamix. Process until smooth, scraping sides as needed. Remove excess potato puree, and then add remaining filling ingredients and puree until totally smooth.
Bake! Spread the filling over the crust and bake in the preheated 350º F oven for 40 minutes. Then sprinkle crumble over surface and bake an additional 20 minutes. Remove from oven and let cool on a wire rack.
Let cool completely before eating; filling will thicken. Store in the refrigerator. I like these best after they are cooled completely in the fridge, then allowed to sit out for about 30 minutes before eating. Slice and serve. Best eaten with a fork.
makes (1) 9″x13″ pan

recipe courtesy affairsofliving.com