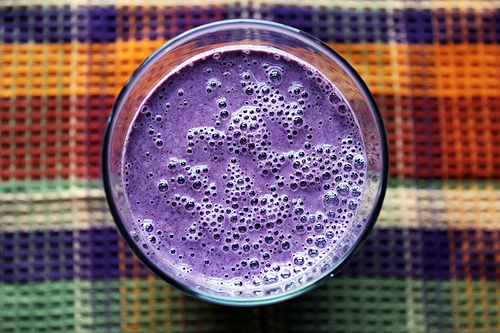 photo provided courtesy of affairsofliving.com

The secret to this smoothie's magical color is frozen blueberries. Whenever there is an abundance of natural color, there is usually an abundance of vitamins, minerals, antioxidants, and other great stuff. This smoothie is no exception, and I feel lucky to have access to such nutritional wealth! And to top it off, the opulent indigo hue makes me feel fancy, like I'm drinking some kind of beverage fit for royalty.
In addition to the rich color, this smoothie boasts a wonderfully creamy texture, a result of blending the blueberries with soaked steel cut oatmeal and hemp seeds. Soaking does more than soften the oats for easier blending – it also breaks down the phytic acid and allows for easier digestion. Hemp seeds to not contain phytic acid, and are easily assimilate by the body and do not need to be soaked.
If you've never used hemp seeds, this smoothie is an easy way to start. For more information about hemp seeds, I recommend reading this post by Food Renegade. According to the post,
Hemp seeds contain all the essential amino acids — those building blocks of protein which our body can not manufacture on its own. Flax seed also contains all the essential amino acids, but unlike flax seed, 65% of the protein found in hemp seeds is globulin edistin. What is globulin edistin? It's a simple protein that our bodies need to build the immunoglobulins necessary to repel infection. The best way to ensure your body has enough amino acid materials to build these globulins is to eat foods high in globulin proteins."
[see References for source]
Pretty cool, right? With each sweet sip, you are getting all sorts of things your body needs. It has a beneficial balance of complex carbohydrates, protein, and fat, and provides bioavailable nutrition that will keep you satisfied. I love this smoothie as a breakfast-on-the-go – as long as you do a little planning ahead the night before to soak your grains and nuts/seeds, it takes mere moments to prepare in a busy morning. It would also make a great recovery drink for after a good exercise routine.

ingredients
I use hemp seeds in this smoothie. Hemp seeds are high in protein, omega fatty acids, and amino acids, and have a nutty, warm flavor that I love. Unlike other nuts and seeds, they do not contain phytic acid, an antinutrient that can inhibit digestion.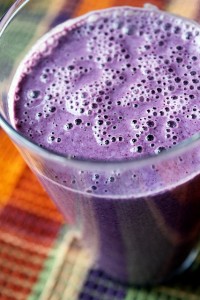 If you do not like, have or tolerate hemp seeds, feel free to use 2 Tbsp of any other nut or seed, and soak them with the oats to break down the phytic acid and allow for optimal digestion (and creamier blending).

• 1/4 cup gluten-free steel cut oats, soaked for 6-12 hours in 1 1/2 cups water and 1 tsp raw cider vinegar, raw coconut vinegar, whey, or lemon juice
• 1 cup frozen blueberries
• 2 Tbsp hemp seeds
• 1 cup filtered water
• 1 Tbsp finely ground flax seed or chia seed
• 2 tsp flax oil or hemp oil
• plain or vanilla stevia liquid, to taste (I like NuNaturals brand)

directions
Place steel cut oats with 1 1/2 cups water and acidic medium in a bowl, cover lightly with a cloth, and let soak for 6-12 hours. Drain and very rinse well.
Place soaked oats and all remaining ingredients in blender, and blend on high until smooth. Sweeten with stevia to taste. Serve immediately, or refrigerate until ready to serve.
makes 2 cups

recipe courtesy affairsofliving.com
References
Source: Hemp Oil & Hemp Seeds — Are they safe?
by KristenM at Food Renegade on April 6, 2009