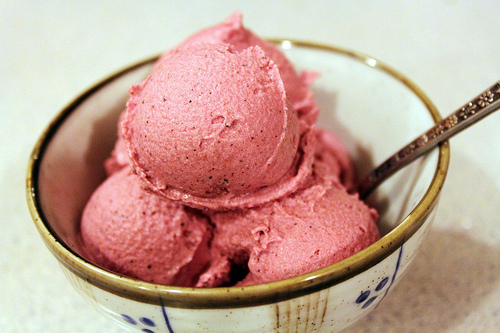 photo provided courtesy of affairsofliving.com

My housemate Mary has been making coconut milk kefir lately, and our refrigerator was rather full of the stuff. She is using these kefir grains from Cultures for Health, and process couldn't be easier. I'm not going to go into details about how to make the kefir in this post, because you can read about it on Cultures for Health's website. She uses cans of organic coconut milk, not the coconut milk beverage, adds the grains, and lets it sit. After a day or two, it's ready to go! Every so often she needs to divide the grains and innoculate them in goat's milk, just so they stay active. Her grains are mulitplying like crazy, so I am going to take some from her and get my own batch started.
The cultured coconut milk kefir is quite lovely. As the coconut milk cultures, it thickens considerably, resulting in a rich, very thick, very creamy and tart kefir that is much thicker than any dairy kefir I have ever eaten. In fact, it is so thick that in order to strain out the kefir grains, we have to thin out the kefir considerably with water! Mary has been eating it like yogurt and adding a dollop to soups, and I've enjoyed adding it to smoothies and spreading it on muffins and bread like cream cheese.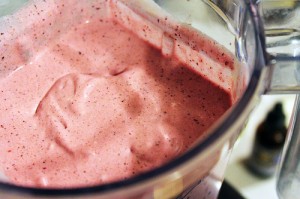 I thought it might be fun to try making it into a frozen yogurt/ice cream type thing. It was a breeze to make – no ice cream maker required – and tasted delicious. It tastes a lot like a strawberry malt, is very coconutty, and has just a hint of that cultured tartness on the finish. A mixture of berries, a bit of agave nectar, and some stevia liquid add just the right amount of sweetness. And let's not forget the best part – it is filled with beneficial probiotic bacteria!
If you want to get kefir grains for yourself and make coconut milk kefir, check out Cultures for Health. If you like fermentation, you'll love their products. For something unusual and health promoting, I highly recommend trying out their Water Kefir starter kit (cultured water – seriously!!!). It is so much fun and so delicious.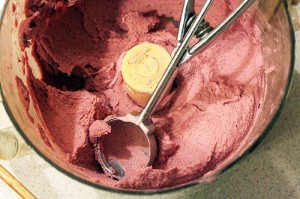 ingredients
This recipe calls for homemade coconut milk kefir, made from canned organic coconut milk cultured with Culture for Health's kefir grains. If you do not have homemade coconut milk kefir, you can use plain canned coconut milk. I have not tried using the SoDelicious Coconut Milk Kefir, but if you feel inclined to try it, give it a shot and let me know how it works for you in this recipe.
• 2 cups homemade coconut milk kefir
• 10 oz frozen mixed berries (I used Cascadian Farms mixed berries)
• 2 Tbsp agave nectar, maple syrup, brown rice syrup, or other natural liquid sweetener, to taste
• 8-10 drops plain stevia liquid, to taste (I used NuNaturals alcohol-free stevia liquid)
• 1/2 tsp gluten-free pure vanilla extract (I used Simply Organic brand)

directions
Place all ingredients in a blender or food processor and process on high until totally smooth. Adjust sweetness to taste. Then….
No ice cream maker version:
Line a 8″x8″ or 9″x9″ baking pan with plastic wrap or parchment, and pour ice cream mixture into pan. Freeze until firm, 2-3 hours, then remove from pan and cut into 9-12 squares with a big knife. Place the squares in a clean (food grade) plastic bag or sealed plastic container and store in the freezer until ready to use.
To make ice cream, remove 3-4 squares per serving and cut into smaller chunks. Place in a food processor or high-powered blender (Vitamix or Blendtech). Process on high until smooth. At first it will first crumble and look like crumbs or be weird and chunky. Press it down with a rubber spatula (or if using a Vitamix, use the tamper), then keep processing and eventually it will form a ball; at this point, it's ready to scoop.
Scoop and serve. Makes 3-4 servings.
Ice cream maker version:
Place mixture in ice cream maker and process according to manufacturer's instructions.
makes 1 quart

recipe courtesy affairsofliving.com