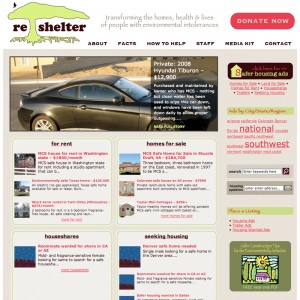 The free safer housing listings and resources found on the former website MCSsafehomes.com have been merged into the new reshelter.org non-profit website. For the past year or so, the MCS Safe Homes website has offered an extensive library of safer housing-related articles, essays and web resource lists for those searching for environmentally safer housing, in addition to free real estate listings for home sales and rentals, pesticide-free land offerings, and off-gassed trailers and cars. Both sites were managed by re|shelter co-founder Julie Genser, who wanted to consolidate the administrative functions of the sites and provide a convenient, one-stop shop for those looking for safer housing options. Merging the sites allows the reshelter.org website to provide multi-dimensional offerings, sharing housing solutions in addition to bringing awareness to the problem. Now those who are on the road searching for safer housing and short on time, as well as those limited in their ability to stay online due to EMF sensitivities, can access all of these safer housing resources on one site.
The new site features an in-depth form that those listing their property must fill out, detailing construction materials and EMF, mold and allergen issues for potential buyers and renters. Housing ads can be searched by location – city, state or region – or by housing type (e.g., Homes for Sale, Homes for Rent, Trailers/Cars, etc.) in the right column. All of the safer housing resource pages formerly found on MCSsafehomes.com have been transferred to the reshelter.org site, including "Choosing a Location," "Starting a Housing Search," "Finding Emergency Housing," and "Living in Community." Links to essays offering practical tips for living with environmental intolerances – from heating and cooking to clothing and bedding – can be found in the right column in the safer housing section, along with links to compelling housing stories and articles related to the housing crisis for those with severe environmental sensitivities.

To access the safer housing listings on the re|shelter website, just click on the brown "click here for Safer Housing Ads" button found in the upper right column of every page on the reshelter.org website.