I fell in love with altered pages at the wonderful, rich, joyful and delicious blog Raven Moon Magic via her Paper Moon work.
As always, I am held back from trying new things by my need to "get it right" on the first try. I've been trying very hard to get past this limitation and succeeded in this case. I tried my first altered page recently and did all sorts of things "wrong" but it made for a great learning experience.
I kept feeling like I "should" add something more to all of the empty space but nothing is coming to me and I really love the way it looks as is so I am leaving it alone.
One of the things I did "wrong" was to not bother taping the page down evenly. I will make sure to do that in the future.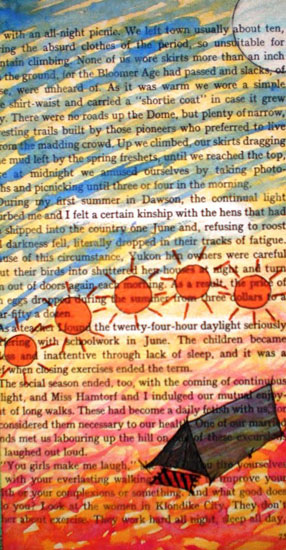 Tips
if you will be using any wet medium on the page, use a book that has thicker pages
tape it down using painters tape
do not remove tape until page is entirely dry. this will make the page less wobbly or warped from the moisture
remove page from book carefully (another thing I didn't do well
you don't need to use a wax resist to bring out the words – I just preferred that because then I could paint at will and not worry about going carefully around the words
pick words based on what you are drawn to – NOT what "makes sense"!
the words do not have to tie in with the painting in an obvious way
if using watercolour paint, you can either do the painting first and pick words later – removing the paint over those words with water, or you can pick the words first and do the painting after. You can see an example of how this will look by the moon in the upper right corner of this piece – the color was removed after painting.

*note* some stain will remain