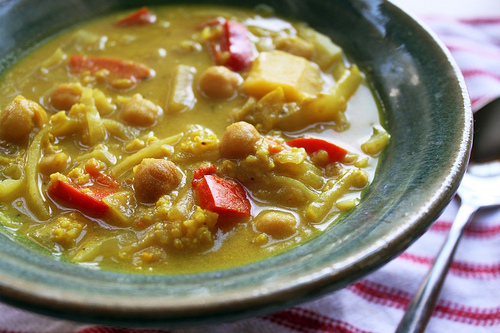 photo provided courtesy of affairsofliving.com

Lately I've been paging through my copy of Silk Road Cooking: A Vegetarian Journey by Najmieh Batmanglij rather obsessively. I have had this cookbook for years, and despite the fact that I know the order of the recipes nearly by heart, I find myself constantly inspired. The ingredients, the photos, and the stories in this book stimulate my imagination and my taste buds, and I never tire of reading through it like a novel! I have been known to have this book out on my coffee table.
While this recipe isn't taken from its pages, the flavors in this soup are inspired from spice combinations that show up in many recipes throughout the book: ginger, chilis, cinnamon, turmeric, cumin, and oregano. These spices and herbs add wonderful fragrance and flavor to the thick, tahini-spiked broth and combination of chickpeas, millet, and vegetables. Don't be intimidated by the long list of ingredients; this hearty soup comes together easily.
Providing protein, complex carbohydrates, fiber, and healthy fat, this soup is a true meal-in-a-bowl, inspired by the flavors of the Silk Road. Make a batch and share it with friends; it will warm you on even the chilliest winter day.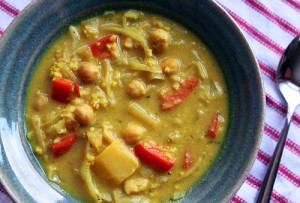 ingredients
• 2 Tbsp coconut oil or ghee
• 1/2 cup dry millet, rinsed
• 1 medium yellow onion, chopped
• 1 Tbsp minced fresh garlic cloves
• 1 Tbsp finely minced fresh ginger root
• 1 red bell pepper, chopped
• 1 medium rutabaga, peeled diced
• 1/4 head cabbage, finely sliced
• 1 medium apple, chopped
• 2 cups cooked chickpeas
• 2 tsp ground cumin
• 1 tsp dry oregano flakes
• 1 tsp ground turmeric
• 1/2 tsp ground cinnamon
• 3 crushed dry red chilis (or 3/4 tsp red chili flakes)
• 6 cups water
• 3 Tbsp tahini
• 3/4 tsp unrefined sea salt, or to taste

directions
Rinse millet and drain. Prepare vegetables as directed.
Heat oil/ghee in a large soup pot over medium-low heat. Add onions, garlic, and ginger, and saute for 2-3 minutes, then add millet.
Saute for 2-3 minutes, then add rutabaga and saute for 2-3 more minutes. Then add remaining vegetables and chickpeas, as well as spices. Stir and saute for 4-5 minutes.
Dissolve tahini in 1/2 cup water, add to pot, along with remaining 5 1/2 cups water. Bring to a boil over medium high heat, then reduce heat and simmer, covered, until vegetables are tender, about 20-25 minutes.
Salt to taste, and serve.
makes 4-6 servings

recipe courtesy affairsofliving.com