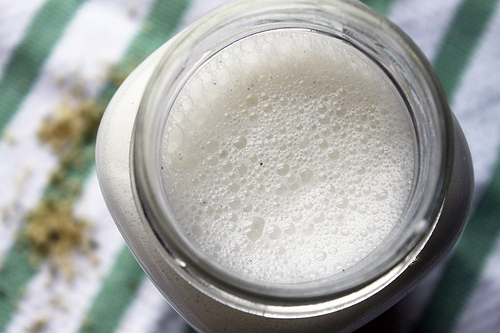 photo provided courtesy of affairsofliving.com

This is my go-to recipe for a quick milk, a simple combination of filtered water, hemp seeds, and chia seeds. Hemp seeds do not contain phytic acid, are easily assimilated by the body, and do not need to be soaked for optimal digestion like other nuts, seeds, grains, and beans. Although you can make this recipe without the chia, including it lends a creamier, thicker consistency and better mouthfeel.
If you've never used hemp seeds, this milk is an easy way to start. Hemp seeds have an impressive nutritional profile, containing lots of protein, phosphorus, magnesium, zinc, and omega fatty acids. Additionally, hemp seeds are incredible source of amino acids, the building blocks of protein. For more information about hemp seeds, I recommend reading this post by Food Renegade.
Drink up!

ingredients
Hemp seeds are nut-free, have a low allergenic potential, and are chock full of vitamins, minerals, protein, amino acids, and fatty acids. This milk is an easy way to include these super seeds in your diet, whether you pour it over gluten-free oatmeal, add it to smoothies or tea, or use it in baking. Chia seeds add a creamier consistency and better mouthfeel, but feel free to omit if desired.
• 2 cups filtered water
• 1/4 cup hemp seeds
• 1/2 tsp chia seeds

directions
Place 1 cup water, hemp seeds, and chia seeds in a high powered blender like a Vitamix or a Blendtech. Blend on high for about 1 minute, then add additional 1 cup water and blend for about 15-30 more seconds. Use as is, or strain through a fine strainer (you will need to rinse the strainer a few times). I prefer to leave it unstrained, but the choice is up to you!
Use immediately, or store in the refrigerator for up to 5 days in a well-sealed container. Shake well before using.
makes 2 cups

recipe courtesy affairsofliving.com